Shrimad Bhagwat Gita placed in Canadian Parliament during Gita Mahotsav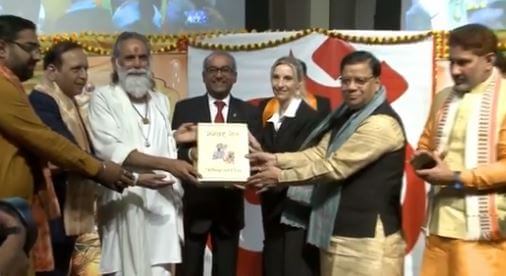 19th September 2022 – Shrimad Bhagwat Gita is now officially a part of the Canadian Parliament library.
A 3-day-long International Gita Mahotsav was kicked-off in the Canadian capital on 16th September 2022 during which Shrimad Bhagwat Gita was received by the Head of Parliament Library from Manishi Swami Gyananand and Canadian MP Chandra Arya.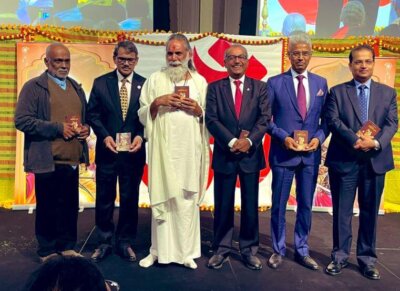 The event was marked by a special video message from Haryana Chief Minister, Manohar Lal Khattar. The other Indian dignitaries present for the event included cabinet minister Kamal Gupta and Chairman of Haryana Bureau of Public Enterprises, Subhash Barala. Acting High Commissioner of India also attended the event.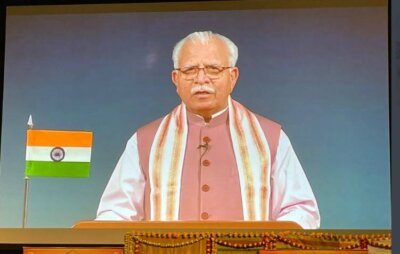 Prime Minister Justin Trudeau sent his best wishes for the event through a letter.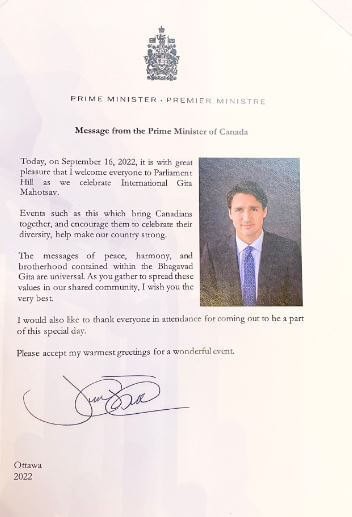 Swami Gyananand said that the relevance of the Bhagwat Gita has become more relevant in the present times and every person should imbibe the teachings of Gita in his life.
On 17th September 2022, over 1,400 delegates attended the Krishna Gaatha in the Living Arts Center Mississauga where an exhibition on Gita and Kurukshetra were on display.
On Sunday, 18th September 2022, a procession took place in Toronto and several floats from different spiritual organizations were on display. The procession was attended by over 8,000 devotees.