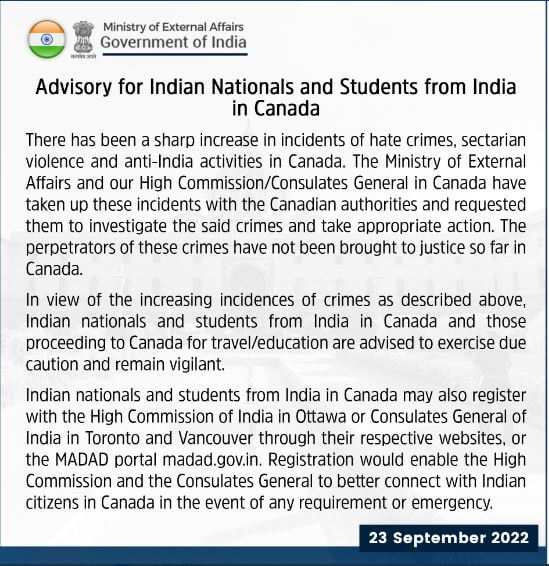 27th September 2022 – It came almost as a shock to some in Canada when last week the External Affairs Ministry of India issued an advisory to all Indian Nationals and particularly students staying in Canada against increasing hate crimes and anti-India activities.
A strongly-worded Indian statement accused that sectarian violence is on the rise and all travelling to Canada must exercise caution and stay vigilant. It was also said that the perpetrators of the past crimes have not yet been brought to books by the Canadian authorities.
Such an advisory is, quite frankly, an 'unprecedented' in Canada-India relations even though the bilateral engagement between the two democratic nations have had their fair share of bitter moments in the past few decades.
India has complained to Canada in the past as well of several anti-India organizations running, rather flourishing, on Canadian soil.  While both nations have banned few organizations deemed dangerous to respective national integrity and security, the issue keeps raking up every now and then. (Click here to see list of banned organizations in Canada)
Is it about the recent Khalistan referendum?
As per a local news channel, on 18th September 2022, a Khalistan referendum was conducted in Brampton, Ontario. The organizers claimed that over 100,000 people participated and the final voting results will soon be made public.
This did not go well with the Indian government. In a media interaction, MEA India's spokesperson, Arindam Bagchi, said "the matter has been taken up with the authorities through diplomatic channels. The government of Canada has reiterated that they respect the sovereignty and territorial integrity of India and they will not recognize the referendum".
Recent Attacks on Hindu Temples and Indian nationals
Although some may deem that this advisory came only in response to the recent referendum event. However, there is more to it. The recent attacks on multiple Hindu temples have been reasoned as hate crimes even by the local law and order agencies.
Early this year, three different Hindu temples were vandalized and theft was reported. In July 2022, Mahatma Gandhi's statue located at Vishnu Mandir in Greater Toronto Area (GTA) was defaced and the police reported this as a hate crime.
Early this month, BAPS Swaminarayan Temple in Toronto was attacked and walls were disfigured. This drew the ire of local political parties as well.
An Indian student, Kartik Vasudev, 21 was killed in broad daylight in Toronto in April 2022. Police did not consider it as hate crime even though the parents of the student wanted the police investigation to go into that direction.
Last November, an Indian family was attacked while they were performing religious rituals near their home in GTA.
Another Indian student, Prabhjot Singh Katri, 23, was brutally killed in Nova Scotia in his apartment in November 2021 and crime was racially motivated.
In July 2021, a Sikh man from India was abused verbally in British Columbia. The perpetrator kept telling the man to 'go back to India' and 'you are not Canadian'.
Community Reactions
Hindu Times Canada spoke to Vishal Saini, Board of Director, Hindu Forum Canada, which is a Toronto based not-for-profit organization. He said, "things are un-precedented here in Canada. We have never seen anything like this ever before in Canada. Of course, it is a matter of concern for the whole Indian community. We ask Canadian authorities to look into the increasing hate crimes and Hinduphobia."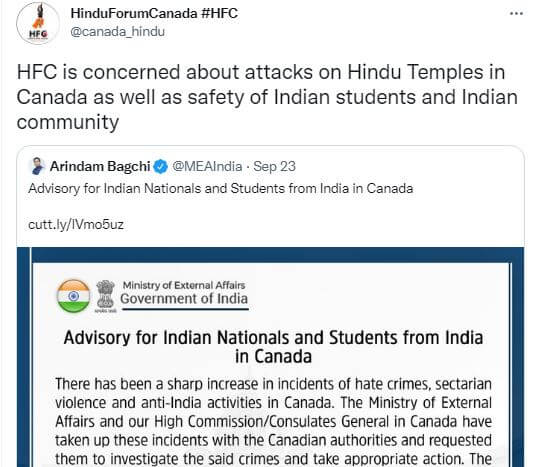 What Next?
So far, there has not been any official response from the Canadian authorities on the said advisory. Both nations share common values and interests in the changed post-pandemic world order. There is an uncomfortable silence right now and one will have to just wait-and-watch on how they mutually address these overdue matters.