Man with criminal history charged with impaired driving in Brampton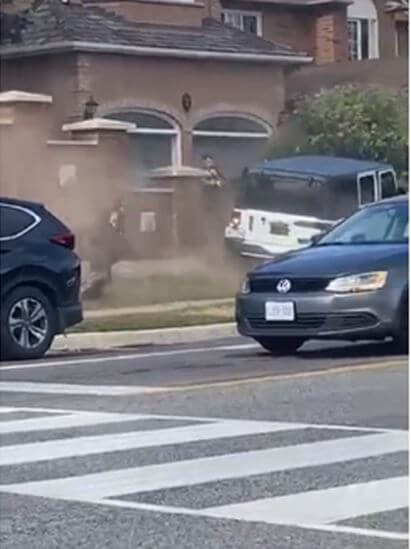 26th September 2022 – Peel Regional Police has arrested and charged one Yudhbir Randhawa, 31-year-old man, from St. Constant, Quebec for impaired driving.
On 23rd September 2022, police were alerted of one white Jeep driving erratically near Queen Street and Chinguacousy Road in Brampton. When the police arrived, the driver tried to evade, struck two trees, three civilian vehicles and multiple police cruisers.Police were able to take the driver into custody near Drinkwater Road and Chinguacousy Road. No civilians, police or driver were hurt.
A shocking video of the incident was found on several social media platforms (click here to see the video). Viewer's discretion is advised, some foul language in the video.
After the arrest, Yudhbir was sent to the hospital for medical examination. He now faces the below charges:
Impaired Operation while impaired – drugs
Failure or refusal to comply with demand – drugs
Flight from Peace Officer
Fail to comply with release order
Possession for the purpose – Schedule 1 Other drugs
Possession of controlled substance – Heroin
Possession of controlled substance – Methamphetamines
Police reported that Yudhbir Randhawa has a criminal history which includes convictions for Dangerous Operation of a motor vehicle and drug related offences.
Police also took custody of the two co-passengers, Harpreet Saggu, 41, Brampton and Jashanpreet Singh, 23, Lasalle, Quebec.
Both Harpreet Saggu and Jashanpreet Singh were released on undertaking and are set to appear in Court on 24th November 2022 and 1st December 2022 respectively.