Brampton man charged for dangerous driving and fleeing the police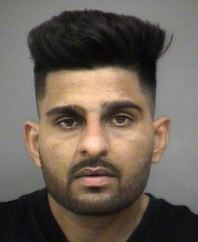 23rd March 2023 – A 28-year-old Brampton man named Lovepreet Singh has been charged by the Peel Regional Police on multiple counts of dangerous driving and fleeing from the crime scene.
On 10th March 2023, at 9:40 a.m. Police noted a heavy tractor-trailer allegedly driving in a "no heavy trucks" zone in area of Dixie Road and Williams Parkway in the city of Brampton. Though the driver stopped briefly after officers conducted a traffic stop, he fled the scene and rode at a high rate of speed. The police decided not to follow the truck in the interest of public safety.
After few minutes, the truck was seen again in the area of Airport Road and Queen Street in Brampton and the driver was found driving erratically. The truck later was allegedly got involved in a collision with another vehicle near Goreway Drive and Steeles Avenue in Brampton but failed to stop at the scene of the collision.
Yesterday, the investigators charged him with the below offences:
Operation while impaired by drugs
Operation while prohibited x 2
Fail to comply with release order
Fail to comply with undertaking
Obstruct Peace Officer
Possession of forged document
The culprit is also known to rent vehicles with false documentation.
"Lovepreet Singh represented a real threat to public safety and is just one example of how the Peel Regional Police Safer Roads Team is committed to following up on all dangerous driving offences in our Region. In just March alone, we have laid 90 Stunt Driving Charges and seized those cars from our roadways. Dangerous driving will not be tolerated in our Region, and with the warmer months ahead, we are committed to ensuring these dangerous driving offenders are charged. For any driver who chooses to 'flight from police,' our Safer Roads Team will stay committed to bringing them to justice." – Road Safety Services Inspector Wendy Sims