Brampton man charged for Stranger Sex Assault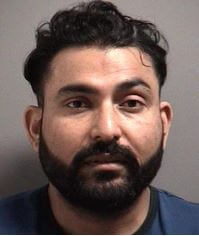 13th January 2022 – Peel Regional Police has arrested and charged a 33-year-old man, Manvir Singh Sandhu, from Brampton for Stranger Sex Assault.
On 31st December 2021, at about 10 P.M., the female victim was walking on the sidewalk in the area of Torbram Road and Peter Robertson Boulevard in Brampton when the suspect approached her from behind. He assaulted the victim sexually and exposed himself before fleeing away from the crime scene. The victim did not sustain any injuries.
Manvir has been charged with one count of Sexual Assault and Indecent Act. He was arrested on 9th January 2022 and appeared at the Ontario Court of Justice in Brampton.
Police has requested the general public to share any available information of this crime with them.