Vandalism of Gandhi statues continues in Canada
31st March 2023 – Yet another statue of Mahatma Gandhi has now been vandalized by "unknown assailants" in Canada. The incident happened at the Peace Square on the Burnaby campus of Simon Fraser University (SFU) in British Columbia on Monday night, 27th March 2023.
Within a short span of less than a week, this is the second such incident that happened in Canada. Last week, another Gandhi statue was vandalized in the Hamilton area of Greater Toronto Area.
In a tweet, SFU condemned the act and stated that they are 'deeply disappointed'. The university authorities are working together with Royal Canadian Mounted Police (RCMP) officers in the investigation. For now, the damaged sculpture has been removed from the premises.
RCMP later confirmed that a 'power tool' was likely used to cut the head off of the sculpture. They are aware of the previous such attacks in different parts of Canada.
Given the consistently rising anti-India sentiment in Canada and recent attack on its consulate office in Vancouver, India had raised the matter diplomatically and invoked the Vienna convention (see letter dated 26th March 2023 below).
Canadian MP Chandra Arya also condemned the act and tweeted, "The Hinduphobia rhetoric of vocal, well-funded & organized and politically powerful anti-Hindu and anti-India groups in Canada is leading to these kinds of acts."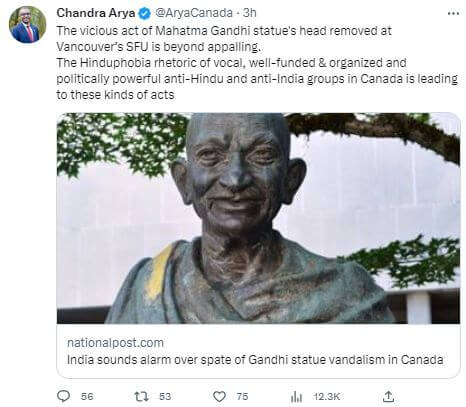 Last year, Vishnu Mandir in Richmond Hill was attacked and the Gandhi statue was defaced with anti-India slogans. Early this year, two Hindu temples were also attacked in the Region of Peel in GTA. Shockingly, Peel Police has not been able to complete its investigation and has been unable to bring culprits to books. Several members of the community have demanded that these attacks be categorized as 'hate crime' and not mere vandalism.
Mahatma Gandhi is famed for his contributions towards India's freedom struggle from British colonialists and his works against caste system and discrimination on the basis of color of the skin inspired great leaders such as Nelson Mandela and Martin Luther King.