These Indic films are now part of reminder list at the Oscars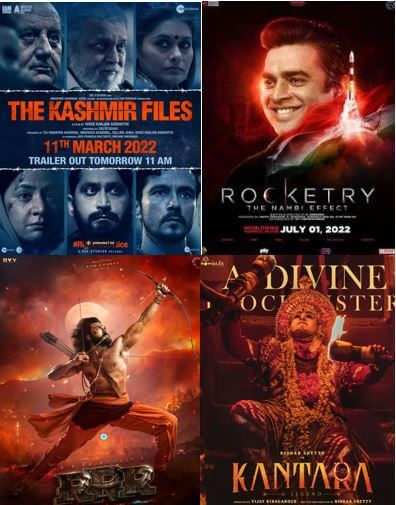 11th January 2023 – The Academy of Motion Picture Arts and Sciences has announced the list of 301 films which are eligible for 2022 Academy Awards, popularly known as the Oscars.
In this huge list of films from across the world, 12 Indic films have been shortlisted. These include – The Kashmir Files, RRR, Kantara – A Legend and Rocketry: The Nambi Effect. India's official entry to Oscars is the "Chhello Show" or "The Last Show".
The Kashmir Files is based on true events of Kashmiri Hindu Genocide and their exodus that happened in 1990s in the valley of Kashmir. Vivek Ranjan Agnihotri who directed The Kashmir Files wrote on Twitter "it's just the beginning".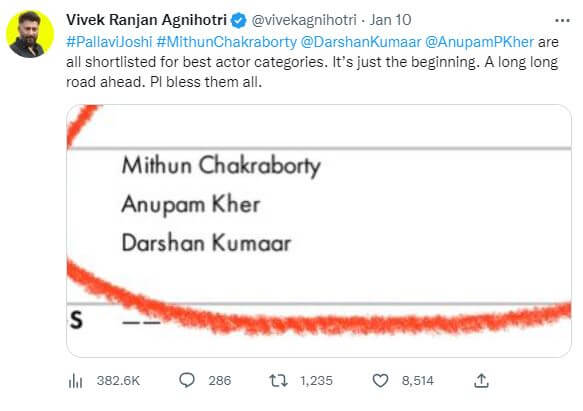 Rocketry: The Nambi Effect is also based on real life events and shows the story of an ISRO scientist, Nambi Naryanan who was falsely accused of spying on ISRO activities. Nambi Naryanan has been conferred with Padma Bhushan by the Government of India.
Both these movies were well received by the audience and became blockbusters.
RRR which remains the biggest blockbuster of 2022 in India is also added to the reminder list along with Kantara. RRR is recorded to have earned INR 1100 crores globally. The movie's song "Naatu Naatu" has won the Best Original Song at Golden Globes 2023.
Kantara a movie which has acclaimed praise from critics is based on a Bhoota Kola, an ancient Hindu practice of deity worship in Tulu (part of Karnataka) and certain parts of Kerala. With a budget of INR 16 crores, the movie made well over INR 400 crores. (see here)
The other Indic movies that got selected were Iravin Nizhal, Jungle Cry, Me Vasantrao, The Next Morning, Tuzhayasathi Kahihi, Vikrant Rona and Gangubai Kathiawadi.
Shishya: So, Guruji does this mean that these films have been nominated?
Guru: No, these films have only entered the reminder list. Getting added to the reminder list is only the first step.
S: What is this reminder list?
G: Being in the reminder list means only this that the film:
must have opened in a commercial motion picture theater in at least one of six U.S. metropolitan areas: Los Angeles County; the City of New York; the Bay Area; Chicago, Illinois; Miami, Florida; and Atlanta, Georgia;
must have released between 1st January 2022 and 31st December 2022;
must have completed a minimum qualifying run of seven consecutive days in the same venue;
must have had a running time of more than 40 minutes
So, technically speaking, these films have just qualified the above criteria. These movies are yet to be analyzed, voted and nominated for the next level.