Pte. Bukkan Singh; here is the story of the fallen Indo-Canadian soldier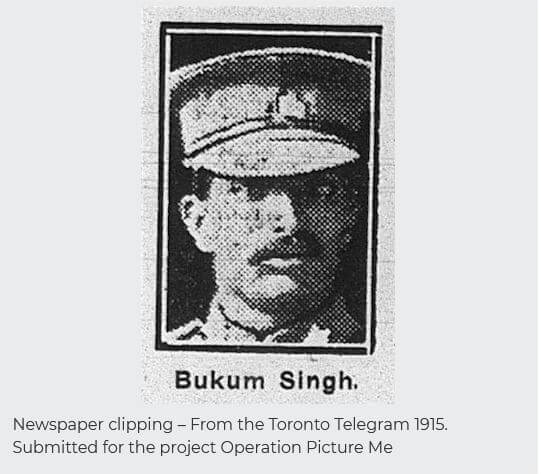 12th November 2021 – Like every year, Canada paid a heartfelt tribute yesterday on Remembrance Day to its soldiers, to those who laid their lives and to those who lived to tell the heroic stories of and to their brethren.
Among the countless stories of valor and bravery, there is one which needs to be read, listened and told, if possible, each day. It is the story of Pte.* Bukkan (Buckam/Bukum) Singh. Singh was born in Jamsher Khas in the Jallandhar district of Punjab, un-divided India on 5th December 1893.
He immigrated to Canada at a very young age of 14. As the Canadian immigration policies of the time were discriminatory, he could not bring his family along with him. Canada did not encourage South Asian immigration at the time. In 1901, the Hindu community was about 3,500 which by early 1950s was estimated to be less than 200. Similarly, Sikhs in Canada were about 2,600 in 1907 and the number fell to drastically in the next 40 years.
As per a story which was published in Toronto Telegram in June 1916, Bukkan Singh tried his hands at various occupations before joining the Canadian military in 1915. He served in the 20th Battalion of Canadian Infantry (Eastern Ontario Regiment). His regiment was posted in the battlefields of Flanders (in Europe) and so, he was shipped there too. During two separate battles, it is reported that he was wounded twice and had to be hospitalized.
As he was recovering to go back to the battlefield, he caught tuberculosis and had to undergo a surgery. After the surgery, he was shipped back to Halifax, Canada. He took a long train journey from Halifax to Ontario. Sadly, he succumbed to the disease in Kitchener on 27th August, 1919. He was buried with full state honors in Kitchener and his grave is still visited by hundreds of each year to pay their respects.
In 2019, a school in Brampton was named after him.
Pte* stands for Private. It is the lowest rank in the military.
All pictures in the article have been taken from www.veterans.gc.ca