Canadian Hindus create their own Chamber of Commerce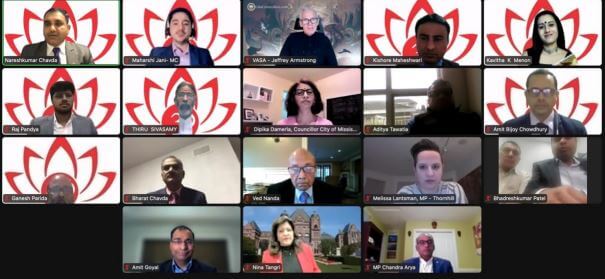 19th January 2022 – Over the last weekend, history has been written. Group of Canadian Hindu business persons inaugurated the first-ever Canadian Hindu Chamber of Commerce (CHCC).
The inauguration ceremony took place on the auspicious occasion of Makar Sankranti. The opening event, which had to be done virtually due to emerging Omicron threat, was attended by over 250 people.
CHCC aims to represent Canadian Hindu businesses, young professionals and other individuals and looks to assist and unite a strong Hindu community in Canada. Hindus are one of the fastest growing minorities in Canada and they are making a mark in all walks of life including medical sciences, legal services, real estate, trade and manufacturing, accounting and IT.
Canadian Prime Minister Justin Trudeau wrote a congratulatory note for the occasion. Special video greetings were shared by Ontario Premier Doug Ford, PC Leader Erin O'Toole, Indian High Commissioner to Canada Ajay Bisaria, Brampton Trade Board member Kanwar Dhanjal, and Federation of Canada Nepal Chamber of Commerce President Bijay Paudel. Special congratulatory video messages were also received from spiritual leaders like Dr H.R. Nagendra Ji, Sri Sri Ravi Shankar Ji, Swamy Bharat Bhushan, OP Tiwari Ji and Sadhvi Bhagawati Sarsawathiji.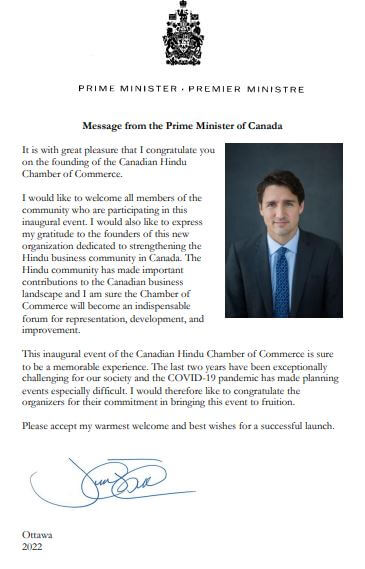 The chief guest of the online event was Padma Bhushan awardee Sh. Ved Nanda Ji. Other prominent attendees online included MP Chandra Arya, MP Melissa Lantsman, MPP Deepak Anand, Minister Nina Tangri, Councillor Dipika Damerla, Consulate General Toronto Apoorva Srivastava and Jeffrey Armstrong.