Project Big Rig; police arrests 15 in auto and cargo theft investigation
19th July 2023 – Investigators of Peel Regional Police has arrested 15 individuals for theft of tractor trailers and cargo. Early this year, a joint task force was formed to investigate a series of tractor trailer and cargo thefts in the Region of Peel and Greater Toronto Area.
The project which was named "Big Rig" has resulted in –
Recovery of $6.9M of stolen cargo
Recovery of over $ 2.2M in value of stolen tractor trailer
Total value of $ 9.24M in property recovered
15 arrests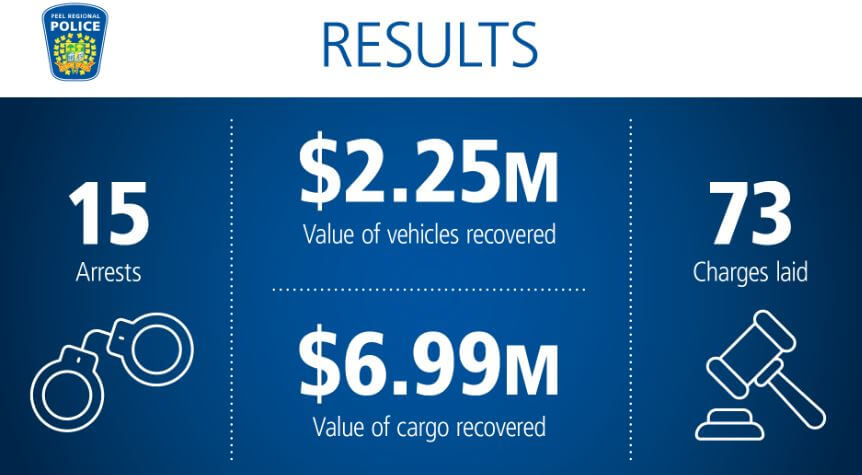 The joint operation was funded by the Criminal Intelligence Service Ontario (CISO) and had teams from Halton Regional Police, Toronto Police Service, York Regional Police, Ontario Provincial Police, Equite Association and the Financial Transaction and Reports Analysis Centre of Canada (FINTRAC).
Peel Police has charged 15 people with multiple counts of criminal offence.
Balkar Singh, 42-years old, is charged with the following offences:
Possession of Property Obtained by Crime
Ajay Ajay, 26-years old, is charged with the following offences:
Possession of Property Obtained by Crime
Manjeet Padda, 40-years old, is charged with the following offences:
Possession of Property Obtained by Crime
Jagjeevan Singh, 25-years old, is charged with the following offences:
Possession of Property Obtained by Crime (x2)
Breach of Recognizance (x2)
Amandeep Baidwan, 41-years old, is charged with the following offences:
Possession of Property Obtained by Crime (x4)
Fail to Comply with Release Order
Breach of Probation
Karamshand Singh, 58-years old, is charged with the following offences:
Possession of Property Obtained by Crime
Trafficking in Stolen Goods
Jasvinder Atwal, 45-years old, is charged with the following offences:
Possession of Property Obtained by Crime
Fail to Comply with Release Order (x2)
Operation While Prohibited
Lakhvir Singh, 45-years old, is charged with the following offences:
Possession of Property Obtained by Crime
Mischief Over $5000
Jagpal Singh, 34-years old, is charged with the following offences:
Break, Enter and Commit an Indictable Offence (x2)
Theft of Motor Vehicle
Theft Over $5000
Upkaran Sandhu, 31-years old, is charged with the following offences:
Break, Enter and Commit an Indictable Offence
Possession of Property Obtained by Crime
Sukhvinder Singh, 44-years old, is charged with the following offences:
Possession of Property Obtained by Crime (x2)
Fail to Comply with Undertaking (x2)
Kulvir Bains, 39-years old, is charged with the following offences:
Theft of Motor Vehicle (x3)
Theft Over $5000 (x3)
Banishidar Lalsaran, 39-years old, is charged with the following offences:
Theft of Motor Vehicle (x2)
Shobit Verma, 23-years old, is charged with the following offences:
Sukhninder Dhillon, 34-years old, is charged with the following offences:
Break and Enter Commit an Indictable Offence
Theft of Motor Vehicle (x4)
Theft Over $5000 (x4)
Possession of Property Obtained by Crime
Theft of Mail
Operation while Prohibited (x2)
Fail to Comply with Release Order