Make Cow national animal and its protection should be fundamental right: Allahabad High Court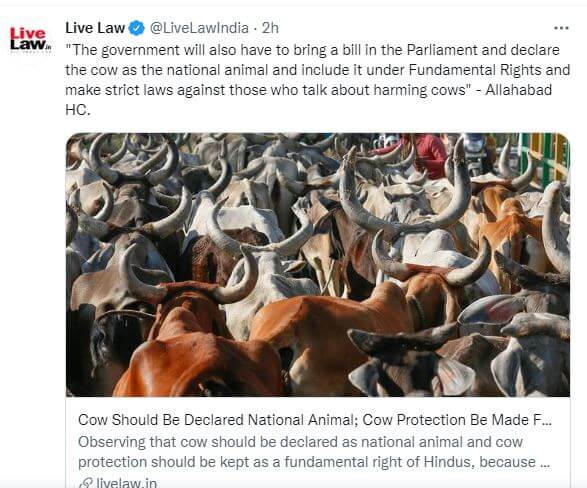 1st September 2021 – Denying the bail plea of one Javed, aged 59 years, who is accused of cow slaughter, Allahabad High Court has made some extraordinary remarks about killing of cows for meat.
In the Sambhal district of Uttar Pradesh, the accused along with other suspects Chote, Shoaib, Arkaan and Rehaan stole the cow from the house of Khilendra Singh on 9th February 2021 while the family was asleep and later killed and beheaded the animal.
The honorable judge Shekhar Kumar Yadav noted the below in his decision:
Cow has a significant place in the Indian culture; it is respected as a mother and worshipped as God;
Swami Dayanand Saraswati noted that a cow in its lifetime can feed over 400 humans while when it is killed can feed only 80;
Maharaja Ranjit Singh announced capital punishment for cow slaughter;
Jesus Christ considered cow killing as killing human beings;
Guru Gobind Singh said 'yahi dehu aagya turuk ko khapaun, gaumata ka dukh sada main mitau';
During the reign of Babur, Humayun and Akbar, cow slaughter was banned during Muslim festivals;
Freedom fighter Mangal Pandey refused to use the bullets provided to the British Indian Army as it had beef on it and rebelled against the colonizers;
Article 48 of the Indian constitution provides for protection of cows and prohibition of its killing;
24 out of 29 states in India prohibit sale and purchase of cow meat and slaughtering of cows is a punishable offence;
Keeping in mind many other factors, Cow should be made the national animal and protection of cows should be added to the fundamental rights of the majority community;
Court noted the saying of Chanakya 'If you want to destroy any nation, destroy its culture and nation would be destroyed automatically';
Fundamental Right is not only the prerogative of beef eaters, rather, those who worship the cow and are financially dependent on cows;
The way in which 'Jallikattuu' was banned keeping in mind the conditions of bulls, cow slaughter should be banned keeping in mind the conditions of cows.
For complete copy of the order, please visit – https://livelaw.in
For those who are yet to understand the importance of cow, we would like to tell them that in America, the cow cuddling business is on the boom and Americans are paying up to $ 75 per hour to cuddle with the cow.