Zumiez removes Hinduphobic footwear from its stores after Hindus Protest
7th July 2021 – In an email dated 6th July, the district manager of Zumiez confirmed to the International Hindu Foundation (IHF) that the controversial footwear, showcasing Om and distorted Yoga position, would be taken off the shelf with immediate effect in all locations across Canada. In a tweet, Zumiez Customer Care stated that the Hinduphobic slippers have now been removed from its website as well in both US and Canada.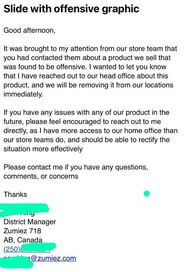 IHF played a pivotal role in taking the cause forward and talking to relevant people at Zumiez. Several members of the community are concerned about the increasing Hinduphobia in Canada. https://hindutimescanada.ca/om-symbol-and-distorted-yoga-pose-appears-on-slippers-at-zumiez-hindus-angry/ Instances such as these are on the rise and hurt the sentiments of global Hindu, Buddhist and Jain community. Locally in Canada, there are about 700,000 Hindus and Buddhists.