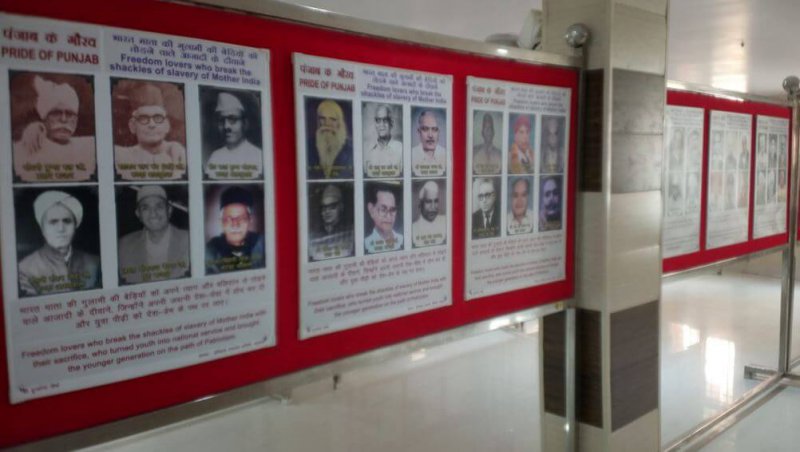 30th August 2021 – As Prime Minister Narendra Modi inaugurated a renovated 'Jallianwala Bagh' couple of days ago which is a mark of India's valorous freedom struggle from the British establishment, Hindu Times Canada discovered an equally important museum which is a must visit in Amritsar for patriots and lovers of history.
'Punjab Ka Gaurav' (Pride of Punjab) museum is located at the Balaji Complex of 'Shri Durgiana Mandir' and is only 3.5 kms away from Jallianwala Bagh and 7-8 minutes of drive from 'Shri Harimandir Sahib' in Amritsar. The museum, which was inaugurated on 20th June 2021, is one of its kind. The exhibits at the museum show the history of an un-divided Punjab. The Sanskrit name of 'Punjab' was 'Panchananda' for the five rivers that flow in the region. Later, during the Mughal invasion, the name got changed to 'Punjab' (punj = five and aab in persian = water).
HTC got in touch with the management at Shri Durgiana Mandir and we asked them a few questions.
HTC: What is the main idea of this museum?
SDM: Right from the days of Acharya Vishnugupt, popularly known as Chankaya or Kautilya, and Chandragupta Maurya, the history of un-divided Punjab is very vast. We wanted to reflect on it.
HTC: How did you come up with this idea?
SDM: The land of Punjab has produced many extraordinary people which have impacted the course of history. However, there are lot which are lesser-known and have not found a place in our history books. Through this museum, we want to tell about their contributions to the world as well. They are the pride of Punjab.
HTC: Why should people visit this museum?
SDM: Is it not important to know about the people who have sacrificed their lives or contributed much to the society? We urge everyone, especially the youth, to visit this museum and know about their ancestors. The history of Punjab goes back to the period of world's first and oldest university, The Takshshila University. Even more, actually.
From some of the pictures that were shared by the team, we got to know of the writer of the famous patriotic song 'Pagri Sambhal Jatta', Lala Banke Dayal.
Apart from displaying various personalities, the museum also shows many historical incidents such as the partition of India, role of Punjab youth in the construction of Shri Ram Mandir at Ayodhya and pays a tribute to people who were killed during the insurgency.
We have added this museum to our list of places to visit in Amritsar, have you?