Kashmir Files garners over ₹ 27 crores in its opening weekend
14th March 2022 – The Kashmir Files, which has been directed by Vivek Ranjan Agnihotri, is turning out to be a box office hit and has already earned over ₹ 27 crores in its first weekend.
As per Taran Adarsh, a prominent movie analyst, the movie has shown a phenomenal growth over the weekend and its box office collections grew over 325% from the day of its release until close of business on Sunday. The movie earned ₹ 3.25 crores on Friday, ₹ 8.50 crores on Saturday and ₹ 15.10 crores on Sunday. Several states including Uttar Pradesh, Madhya Pradesh and Gujarat have declared the movie to be shown tax-free.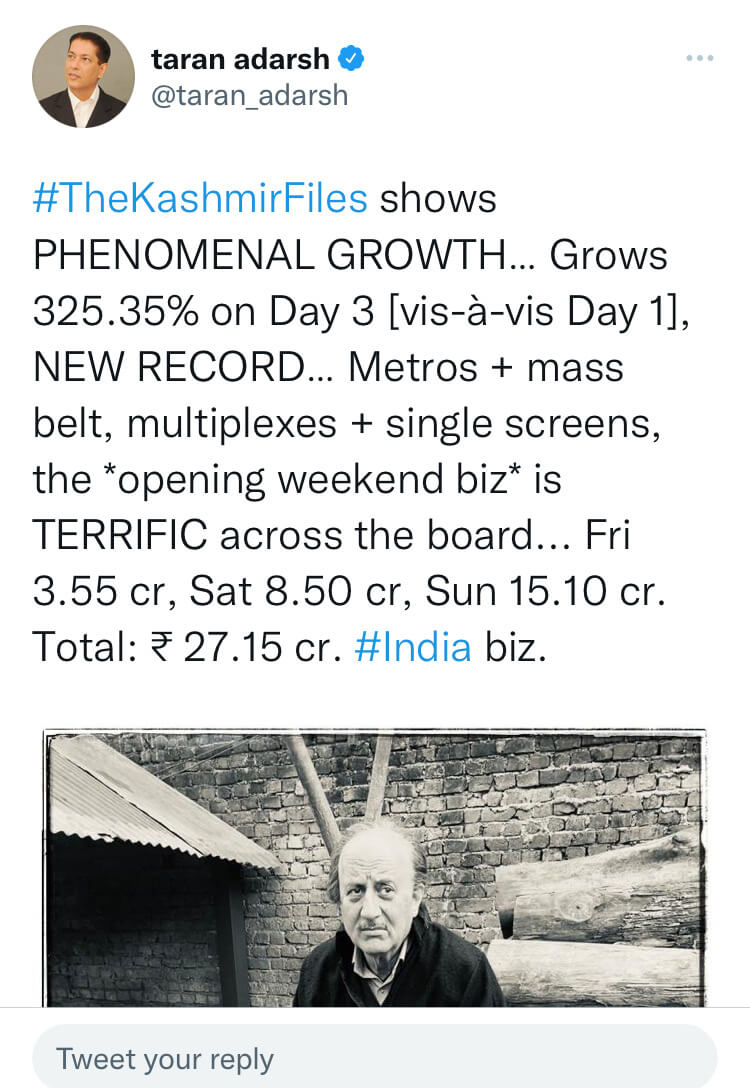 The movie, which is based on true events, reflects the plight and misery of the Kashmiri Hindus who had to undergo an ethnic and cultural genocide in 1990s. The events which led to this genocide resulted in the seventh exodus of 500,000 Kashmiri Hindus from the Kashmir valley on 19th January 1990.
The movie has a strong storyline which binds the audience till the end. Many scenes in the movie show the kind of violence which the Kashmiri Hindus had to face. The last scene of the movie can shake the strongest which shows a Hindu woman being cut into two pieces and 24 people including one child being shot at point blank.
Because of the sensitive subject of the movie and the troubles the crew had to face to launch this movie, the movie is garnering support from all sections of the society including Sikhs and Muslims. The movie has a very strong cast consisting of many seasoned actors and 2 national award winners, Anupam Kher and Pallavi Joshi.
Locally in Canada, a special screening of the movie was sponsored by Hindu Forum Canada and Vishwa Hindu Parishad in Greater Toronto Area over the past weekend. (https://www.aninews.in/news/world/us/indian-community-in-canada-gets-emotional-after-watching-the-kashmir-files20220314210937/)