India takes big leap in COVID Resilience Rankings; one of best places to be in during COVID-19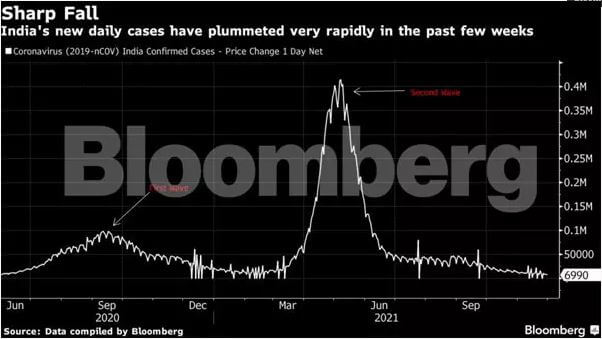 2nd December 2021 – After a shaky start at the beginning of this year when COVID-19's second wave hit India, it did not look that India would make such a quick comeback in its fight against the pandemic. However, as per the latest Bloomberg's COVID Resilience Rankings released in the last week of November, India has jumped 19 spots from the previous rankings which made India one of the best places to be in during COVID-19.
According to the report, India is poised well at 26th position where the deadly virus is being tackled without much socio-economic disturbances. Bloomberg gathers and analyze data of 53 different nations on 12 different datapoints including economy, opening up and virus containment.
So, what factors led to this quick turnaround?
First, mass-scale vaccination played a vital role in achieving this feat. India has already administered over 1 billion doses.
Second, natural immunity against the virus was another aspect which helped Indians fight the deadly disease.
Despite initial hiccups during the pandemic, the Indian economy is expected to grow at 9% in the fiscal year 2022. Most the public places have re-opened to their full capacities. With threats looming large with the latest coronavirus variant, Omicron, Indian authorities have taken quick action on restricting air travel from the South African countries and is planning to re-visit its earlier plan to resume all regular international flights.