International Day of Yoga celebrated with full enthusiasm
22nd June 2021 – The 7th International Day of Yoga (IDY) was celebrated with full enthusiasm and fervor in Canada and the rest of the world. Yoga fans took full advantage of the great weather on the first day of the summer and loosened COVID-19 restrictions at various places. They performed various asanas (yoga poses) outdoors and enjoyed the festival with their friends and families. 
A variety of Yoga programs were organized across Canada. In fact, the celebrations started at the beginning of the month itself and would continue for the remaining of the month. The Indian Consulate in Toronto planned multiple events for IDY with the help of Isha Foundation, Art of Living and Hindu Swayamsevak Sangh. 
Yoga essentially means 'union'. The union of body, mind and soul with the cosmos. Yoga is an ancient Hindu practice since time immemorial. Yoga is one of the most beautiful gifts which India has given to the world. The importance of Yoga has increased manifolds in the past few decades with the increase of mental and psychological illness in the human society. 
Locally, even the First Lady of Canada, Mme. Sophie Trudeau, is a fan and expert of Yoga. The Indian Consulate in Ottawa shared the below tweet from their account.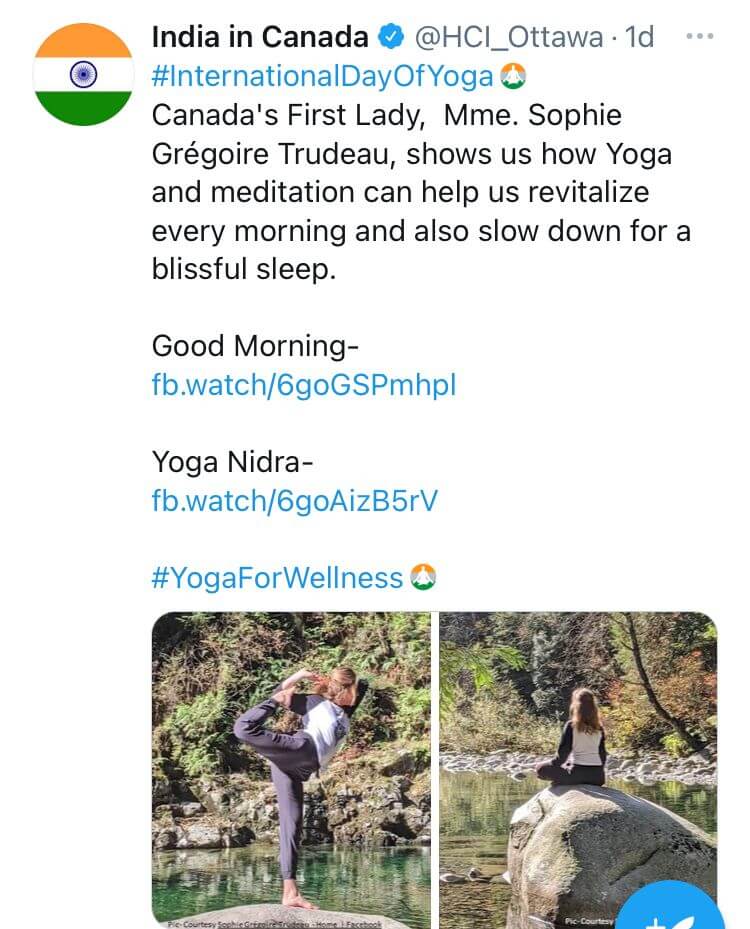 On the other hand, Indian Consulate in Toronto shared some very beautiful pictures of Yoga enthusiasts from Niagara Falls. This is what they tweeted.