Federal investigators charge Brampton man for importing cocaine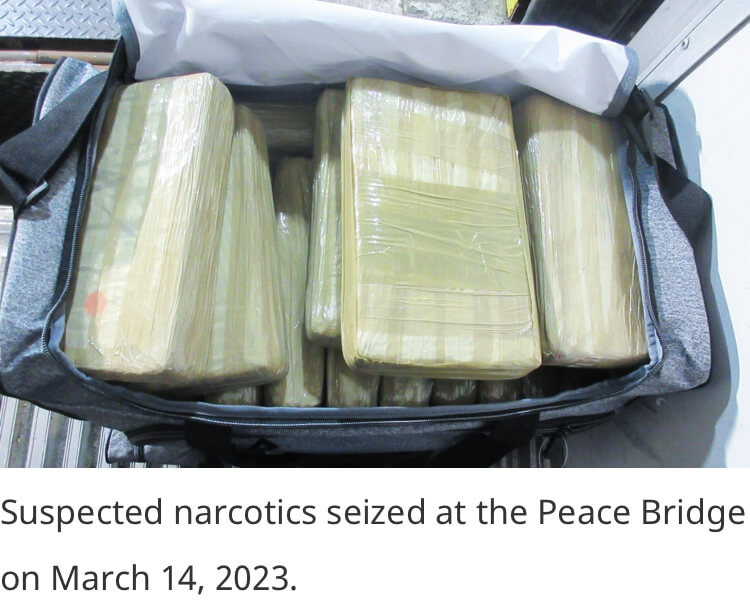 27th April 2023 – Investigators from Canadian Border Services Agency (CBSA) and Royal Canadian Mounted Police (RCMP) have arrested one man and found him with 3 duffle bags full of cocaine at the Fort Erie Canada-US crossing.
On March 14th, 2023, a commercial truck entered Canada at the Canada Border Services Agency (CBSA) Peace Bridge port of entry in Fort Erie, Ontario, and was referred for a secondary examination. During the inspection of the trailer, border services officers discovered three duffle bags containing bricks of cocaine, weighing approximately 70 kilograms.
The CBSA arrested the driver and seized the suspected cocaine. RCMP Niagara on the Lake Border Integrity took over the arrest of Gursimran SINGH and seized the cocaine.
Gursimran SINGH (26) of Brampton, Ontario, is charged with:
Importation of cocaine – contrary to Section 6(1) of the Controlled Drugs and Substances Act.
SINGH was released on conditions and his next court date has been set for May 4th at 9:00 a.m. at Robert S.K. Welch Court house, located at 59 Church St. St Catharine's, Ontario.
Both federal agencies are working closely together to continue the investigation.
"The safety and security of Canadians is our government's top priority. I want to thank the dedicated CBSA and RCMP officers for their excellent work in stopping dangerous narcotics from coming into the country and I look forward to seeing the difference they continue to make in keeping our communities safe."  The Honourable Marco E. L. Mendicino, Minister of Public Safety
"Our joint effort with the CBSA has led to the removal of narcotics from Canadian streets, a loss of revenue for Organized Crime, and criminal charges against the importer. This collaboration demonstrates our continued commitment in working together effectively to disrupt the flow of controlled drugs coming into Canada." Superintendent Rae Bolsterli, Officer in Charge, RCMP Border Integrity Program, O Division.
"This cocaine seizure is the result of hard work and diligence from the CBSA and RCMP who are committed to stopping illegal activity at our borders. I am proud of our officers who work hard every day to keep Canadians safe." Kim Upper, Director, Fort Erie District Operations, Canada Border Services Agency
If you have information about suspicious cross-border activity, please contact the CBSA Border Watch Line at 1-888-502-9060.