Proposal to Change Dundas Street Name in Toronto Gains Strength
29th June 2021 – After proposed name change of the Ryerson University, it is now Dundas Street and other civic assets in Toronto which might undergo a name-change. A City of Toronto report has supported and recommended to remove Dundas name.
https://www.toronto.ca/news/city-of-toronto-staff-report-recommends-renaming-of-dundas-street/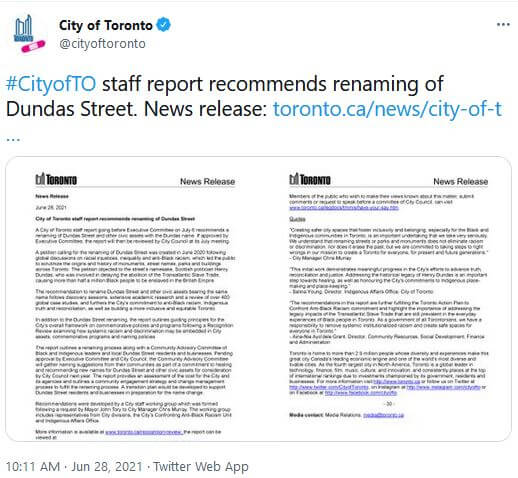 Dundas Street has been named after Henry Dundas who was engaged in slavery and was responsible to enslave half a million Black people in the British empire. According to the report, this would be another step to show City's commitment to anti-Black racism and Indigenous Truth and Reconciliation. The City's report has already found support from Mayor John Tory. An online petition, which was started by Andrew Lochhead, to seek support for street's name change gathered over 14000 signatures.
The report also stated that the official expenditure to perform the name change may cost the exchequer over $6 Million. While the report and the cause have many supporters, some critics see this as a 'complete waste of time and money'.
The City report has been sent for review to the Executive Committee which is scheduled to look into the recommendation on July 6.