CoHNA's Canada Conclave Highlights Growing Hinduphobia in Canada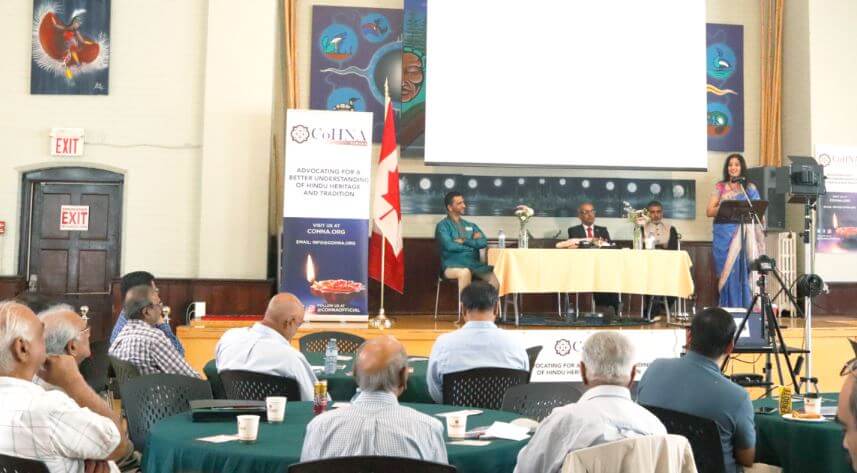 23rd August 2023 – CoHNA Canada hosted its inaugural community meet and greet event in Toronto on August 5, 2023, bringing representatives from various Hindu and allied organizations together. Close to 100 Hindu Canadians, students and allies from a cross section of Toronto civil society, gathered at the Native Canadian Centre of Toronto, a venue steeped in indigenous Canadian culture, accentuating the event's mission to safeguard civil rights for diverse ethnic groups in Canada.
Distinguished speakers at the event included Hon. MP Shri Chandra Arya, renowned author Smt. Sahana Singh, popular podcaster Shri Kushal Mehra, and Shri Nikunj Trivedi, President of CoHNA. The event's host, Rishabh Sarswat from CoHNA Canada, opened the event by outlining increasing Hinduphobia in Canada and showcasing CoHNA Canada's proactive stance in combating this challenge.
Hon. MP Shri Chandra Arya, an advocate for the community within the Canadian Parliament, highlighted the contributions of Hindus to Canadian society as well as the challenges faced by the community. He underscored the significance of active participation in local and professional bodies, offering insights based on his own journey in politics.
Smt. Sahana Singh, author of "Revisiting the Educational Heritage of India," emphasized the profoundness of the cultural and philosophical ties that bind the community. Drawing from her books, she highlighted the need to reclaim lost cultural glory and combat its misrepresentation or appropriation. With a background in Environmental Engineering and Indic philosophy, she focussed on addressing the climate crisis through a holistic Dharmic approach.
Continuing the conversation, Shri Kushal Mehra, advocated for political engagement among Hindus in Canada, encouraging the community to recognize and harness its political potential. Drawing comparisons across regions, he ignited fervent calls for active involvement, and elucidated the significance of focusing on policy-making and its potential impact on the community.
Shri Nikunj Trivedi, President of CoHNA, provided insights into the organization's origins and its journey thus far. He elaborated on CoHNA's campaigns, including the Swastika Proclamation and ongoing efforts against discriminatory profiling of Hindus in anti-Caste resolutions. He encouraged collaborative efforts towards shared objectives and betterment and went on to thank the attendees for their support. The event marked a pivotal moment for CoHNA and the Hindu community, fostering unity, awareness, and civic engagement.
The article was originally published on cohna.org and has been re-produced here with CoHNA's permission.