5th Annual Kawad Yatra Celebrated by Hindu Canadian Foundation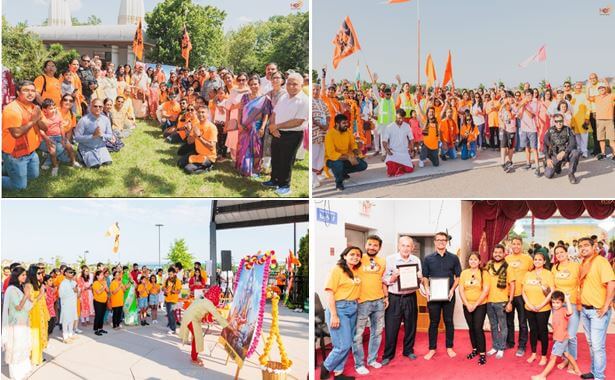 28th July 2023 – The Hindu Canadian Foundation ("HCF") organized it's 5th annual Kawad Yatra on 22nd July 2023 in Milton, Canada. Around 200 devotees (Kawadiyas') participated in the 8km long Yatra (walk), to seek blessings of Hindu God 'Shiva' for the health and wellness of all human beings.
Town of Milton was once again amazed by the unique journey immersed in joy, devotion, and gaiety. A jaw dropping number of devotees all dressed in orange wearing tripundra tilak on foreheads, chanting 'Har Har Mahadev' is a scene that has become the talk of the town.
Devotees started assembling early morning 6:30 AM at Milton Sports Center, morning snacks along with delicious tea was made available for all devotees.
Yatra was started with the Shiv Ji Aarti and a collective chanting of Shiv Mantra by all Kawariyas. All Kawariya's were handed a bottle of holy water (Ganga Jal)- which they carried to the temple, without letting the bottle touch the ground.
The Kawad Yatra route of 8 kms was through out very well organized, traffic rules and community safety was never ignored. This was possible because of amazing Miltonions who greeted the Yatra with lovely gesture across all intersections.
Yatra route was covered parts of Derry, thompson, Main and Regional road 25, marking it start and end at the "Milton Sports center". A short stop was taken at Lions Park where all devotees got the opportunity to dance and sing Shiv bhajans.
Dedicated van was traveling all along with the walking Kawariyas (devotees) throughout the journey to support the people plus a few cars to take care of seniors and kids. During the entire Yatra devotees enjoyed singing song, dancing, chanting mantra and slogans.
Devotees reached the Vaishno Devi temple and were greeted with flowers and delicious Lassi. Amazing music arrangements were made by HCF at the outside premises of temple where devotees enjoyed Shiv Mantra and Bhajans, along with a wonderfully decorated Photo booth for all devotees.
A lot of devotees who could not join the Yatra due to several reasons were present at temple to welcome Kawariyas and be part of celebration. Entire Temple premises were full with Shiva Devotees, over 400 people joined the celebration at Vaishno Devi Temple , Oakville.
Nandi Ji came all the way from Caledon for all Shiv Bhakts, all devotees were immersed with spirituality and devotion and spend quite a time worshiping Nandi ji and getting his blessings.
A wonderful Shiv Tandav Nritya was presented by Classes Of Karma which was a treat to every devotee. The performance was full with energy, joy and spirituality.
Jalabhishek was performed by all Kawariyas with the Mantras. Guest of honor, MP Adam Van Koeverden, MPP Parm Gill and Mayor of Milton- 'Gordon Krantz' joined the celebrations at the temple. The dignitaries appreciated Hindu Canadian Foundation for creating such community connect opportunities and celebration for the Hindu families residing in Canada.
At the conclusion of the devotional journey, all devotees were offered Prasad (traditional Hindu meal), and refreshments. HCF is grateful to Vaishno Devi Temple, Archana Rai, Umesh Pandey, Biren Gosai, Vidhu Pankaj, Indu Verma, Swadesh Grocery, Milton for their Seva to offer meal and refreshments.
Kawad Yatra is a famous hindu ritual and festival celebrated in the month of Shravan (usually July-Aug) where devotees carry holy water, mostly from river Ganga and offer jalabhishek to Lord Shiva at one of the 12 Jyotirlinga.
Contributed by Arunesh Giri, HCF
Disclaimer: The views and opinions in this article are of its author and Hindu Times Canada assumes no responsibility or liability for any errors or omissions in the content of this article.