'Toronto' sign colored in Bhagwa for Hindu Heritage Month celebrations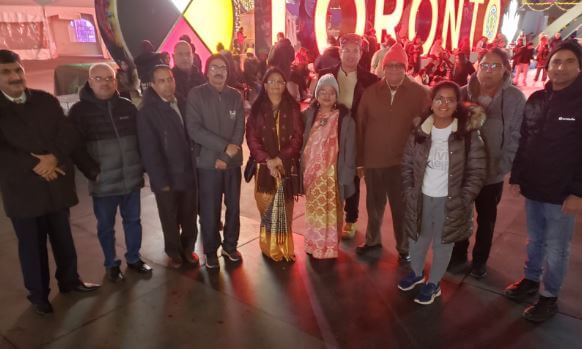 30th November 2022 – The celebrations for the Hindu Heritage Month for 2022 have concluded with a bang. Yesterday, the City of Toronto lit the iconic 'Toronto' sign at Nathan Philips square near Downtown Toronto in 'Bhagwa' color.
The community event was organized by the Canadian Organization for Hindu Heritage Education (COHHE) organization in collaboration with the City of Toronto.
The event began with usual meet and greet and was followed by religious prayers and lighting of diyas near Toronto City Hall. Additionally, the flag of COHHE had been hoisted high over City Hall in honor of Hindu Heritage Month (HHM) in the early morning by the City staff. The flag has several Hindu insignia including Swastika and Shankh.
What makes it very interesting is the fact that the flag has been designed by a young 11-year-old Hindu girl.
Vijay Jain, a member at COHHE, said, "our team is working with different school boards to educate our youngsters on vast Hindu heritage and tradition and we are aiming to counter Hinduphobia. Our objective is to counter anti-Hindu propaganda at district school board level and other government institutions."
More information about COHHE work and resources can be found at cohhe.org. They can be contacted at info@cohhe.org.
Provincially, HHM is celebrated in the month of November since 2016. Recently, a private member's motion introduced by Chandra Arya was unanimously passed by the House of Commons to commemorate HHM federally in the month of November every year.