Simcoe Police seeks 'porch pirate' in Bradford; suspects car licence plate 'Jatt Put'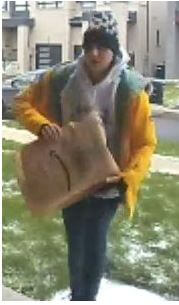 7th December 2021 – It is that time of the year in Canada when people tend to receive more gifts and greetings from their loved ones than any other time. During pandemic, the online shopping has spiraled and so have risen the thefts from porches.
In a press release last week, the South Simcoe Police Service confirmed that it is searching for a suspect in multiple 'porch pirate' thefts in Bradford. The police have asked for assistance from the public in identifying the suspect. On the afternoon of Friday, November 26, 2021, packages were stolen from the front porches of four homes in the Line 6 and Simcoe Road area. An attempted theft of a package was reported in the same area on Sunday, November 28, 2021.
The suspect is described as female, thin build, wearing jeans, a bright yellow jacket, grey/white sweater and a hat.
The suspect vehicle is described as a grey SUV with the licence plate "JATT PUT."
Police have released security camera images in an effort to identify the suspect and the vehicle. Anyone with information about these incidents or security camera videos regarding these thefts, or if one recognizes the suspect can contact the South Simcoe Police Service at 905-775-3311, 705-436-2141 or Crime Stoppers.
Most 'porch pirate' thefts occur in daylight hours and can take only seconds. The Police urged the public to take steps to protect their parcels, especially as more people are shopping online for Christmas. If someone steals your parcel, report it to police. Residents are encouraged to be good neighbours, watch out for each other and report suspicious activity to police. Here are some ways to prevent the theft of your packages:
– Ask to have packages delivered to your work (if allowed), a neighbour or a friend
– Track deliveries online to know when they will arrive and if possible, have packages delivered to a side or rear door, out of sight
– Remove packages from your porch quickly once they arrive
– Get a 'safe drop' or locked mailbox for packages