Pakistani documentary "The Losing Side" grabs award at Cannes
6th January 2023 – A Pakistani documentary film titled "The Losing Side" has won the Best Human Rights Film for the month of November 2022 at the Cannes World Film Festival (CWFF).
The documentary film is based on the true stories of forced conversions of Pakistani minorities, majorly Hindus, Sikhs and Christians. Directed by Jawad Sharif, a Pakistani documentary film maker, said that the film documents the real stories of four women in the Province of Sindh Pakistan who were the victims of injustice. The film maker also shared a soulful number on his Instagram account. (click here to see that)
In one of his social media posts, he wrote, "the reason behind highlighting such themes is to bring positive change in society by addressing the violations (of human rights) so they can be lessened or eradicated".
While congratulating the film maker, an Instagram user wrote, "Another masterpiece by @jawadshariffilms. Exploring the often ignored issue of the injustices with Hindu indigenous communities of Pakistan."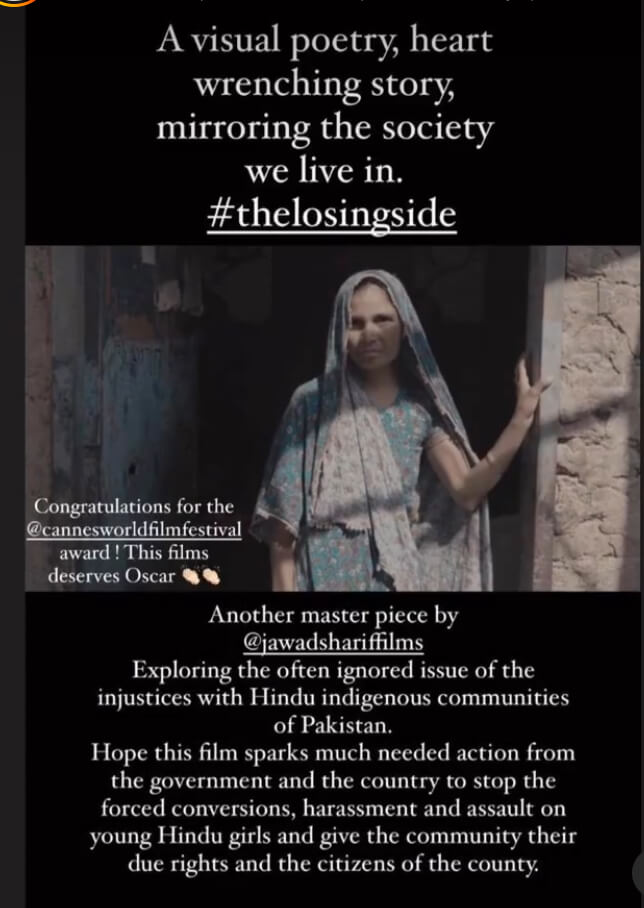 As per a report published by University of Birmigham in May 2018 titled "Forced Conversions & Forced Marriages in Sindh, Pakistan", it has been estimated that 1,000 women and girls from religious minorities are abducted, forcibly converted and then married off to their abductors every year. The report also noted that 20 or more Hindu girls are abducted every month in Pakistan. Further in the report, the Human Rights of Pakistan confirmed that the local police often turns a blind eye to reports of abductions and forced conversions.
A twitter account Hindu Sindh (twitter.com/sindhhindu) has shared several frightening stories of atrocities being committed on 1.6% Hindu community in Sindh.
Jawad Shariff has several other award winning films to his credit including Indus Blues. The official trailer of the film can be watched here.