Befitting response by Hindu group against Hinduphobic article in The Pointer

5th January 2023 – While the year might have changed, what has not changed is the growing Hinduphobia in Canada.
On 16th December 2022, The Pointer published an article titled "'Us Canadians are not a threat to you': Are old world conflicts behind the ugly outcry against a new Mosque proposal in  Brampton? | The Pointer" which is deemed Hinduphobic as per Hindu Forum Canada (HFC).
HFC claims that the author of the article, Jessica Durling, has belittled the whole Hindu Canadian community at the backdrop of an ongoing discussion on building of a mosque in Brampton East near Highway 50.
The news article wrote, "Scrolling down the long list of delegates signed up to speak during the planning meeting, the vast majority of names have one thing in common: they are Hindu". What followed next is the below tweet by a Twitter user.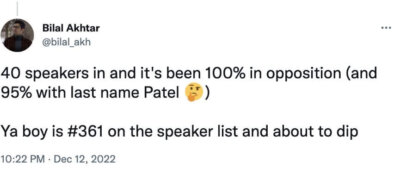 The article further comments a rhetorical against all Hindus being 'right-wing Hindu Nationalist sympathizers' and India being led by a government that promotes 'anti-Muslim' sentiments.
In its letter to the Editor at The Pointer, Vishal Saini, who is a Director at HFC wrote that "Let us be clear about one fact. Our concern in this letter is not about whether City (of Brampton) should allow the mosque to be built or not. Our concern here is the way in which the author has vilified the whole Hindu-Canadian community". The letter added that the author has provided no substantial proof to confirm rising Hindu extremism in Canada and has in fact used her own biases and superficial ideas to create Hindu- Muslim divide in Canada. HFC also said that there are 77 extremist organizations which are banned by Public Safety Canada but there is not one Hindu organization on that list.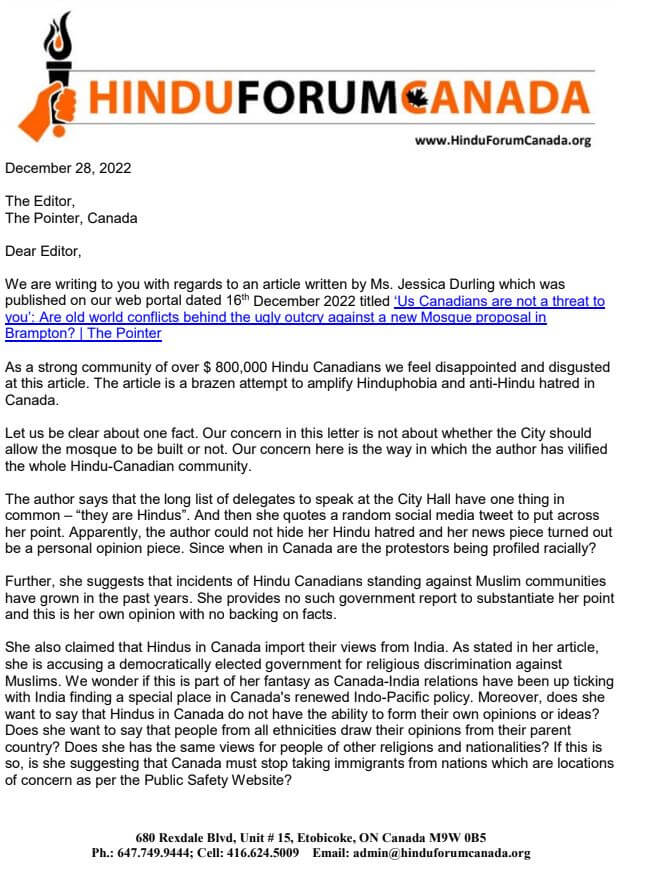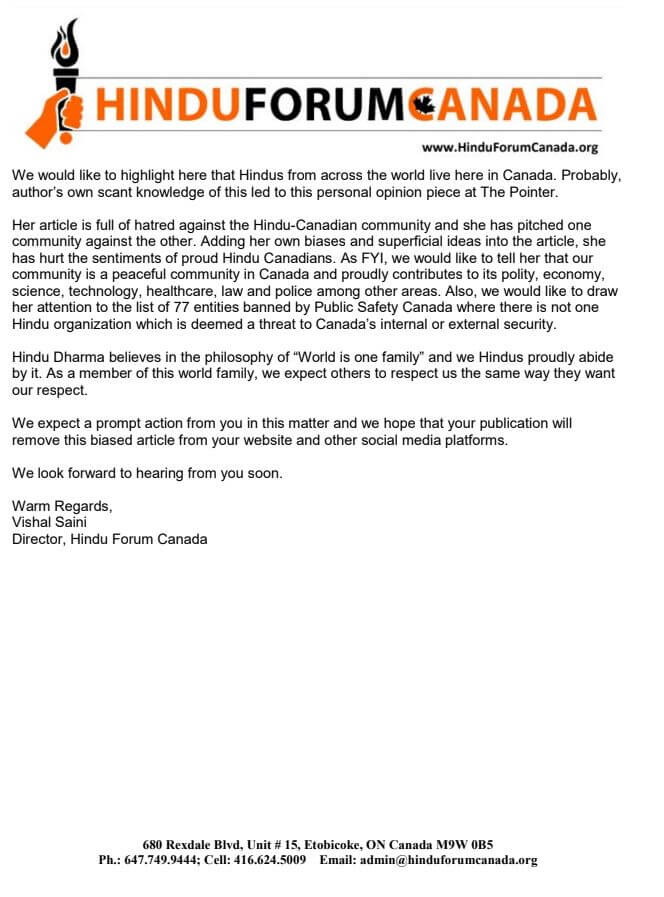 HFC was expecting to get the article removed from the news' website. However, it did not happen. On the other hand, Joel Wittnebel, Managing Director at The Pointer, who responded to HFC's letter indeed justified what the 16th December article had said about Hindus.
See below the response received from The Pointer.
Hindu Times Canada spoke to Vishal. He says that he is very disappointed at the response. "What is strange is the fact that they are putting every Hindu in the same basket. Would they do it this with any other community in Canada? On the other hand, I am happy that their bigotry and colonial mindset got exposed". HFC shared their last response with us.