Hindu organizations across provinces protest against vandalism at temples, cultural appropriation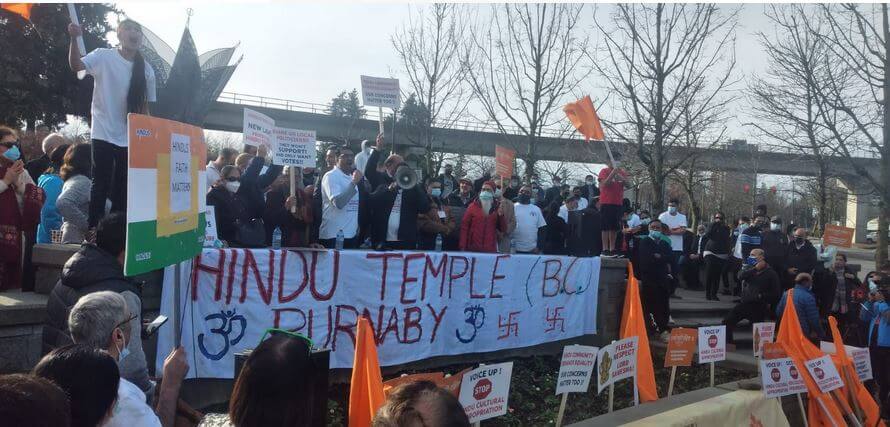 16th February 2022 – Last weekend, Hindus from different organizations in Surrey and Calgary staged their protest against cultural appropriation and recent vandalism and robberies that shook the Hindu community in Greater Toronto Area.
United Hindu Forum which is a coalition of local temples and other Hindu organizations in Vancouver/Surrey area of British Columbia has condemned the use of Shri Ganesha's image in as a vulgar logo by an adult business (Big Dick Energy Coaching) in Canada. The Forum says that this cultural appropriation must be stopped as it hurts the religious sentiments of millions of Hindus living in Canada and using an image on an adult website is demeaning and slanderous. Despite their several requests to take the image down, the website has not yet removed the picture from their portal. Scores of Hindus gathered at the Holland Park in Surrey to register their anger and disappointment against this Hinduphobic act.
The Hindu community got support from a local councilor, Laurie Guerra, who in her letter said "We are at a point in history that will be page-marked by our awareness of cultural and ethnic diversity. Along with this we are encouraged to meaningfully reflect on messaging that contributes to racism, stigmas and disrespectful behavior." She hoped that the matter would be resolved quickly and the image is taken down from the adult website.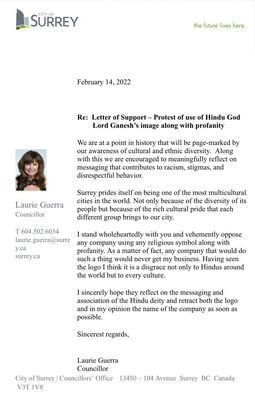 A similar event was organized by the International Hindu Foundation (IHF) in Calgary to show their solidarity with the community and to express their anguish towards rising Hinduphobia and Hindumisia in the Canadian society. IHF also expressed their concerns about the recent robberies and vandalism which took place at as much as 6 Hindu temples in the Greater Toronto Area. Although, it is still to be established if the recent robberies were conducted by a set of individuals with motives other than money, it surely seems to be coordinated attempt to attack Hindu places of worship. Peel Regional Police says that the matter is still under investigation and the perpetrators of the crimes are still at large.
"If all of this is not a proof of growing Hinduphobia and Hindu hate in Canada, then what is?" said one of the protestors.