India expresses concerns over religious attacks on Hindus in Leicester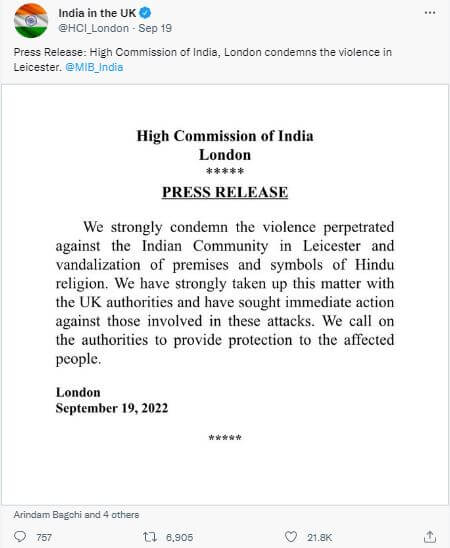 21st September 2022 – The Indian High Commission in the United Kingdom has condemned the violence that has been targeted towards the Indian community in the city of Leicester in the past few days.
In a strongly worded message to the UK authorities, the Indian Mission has sought immediate action against those involved in these attacks.
It all began with the India-Pakistan Asia Cup cricket match and since then the tension between Hindus and Muslims have flared up in the city.
As per one social media footage, a crowd can be seen burning a flag at a temple. In another video, a man is seen walking on the walls of the temple and then took off the flag (click here to see the video).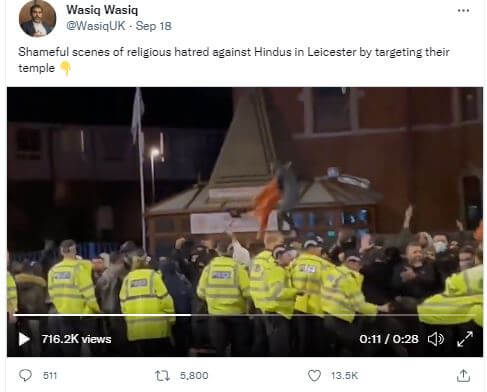 The Leicestershire Police confirmed that they have arrested 47 people involved in the incidents. A 20-year-old man has been sentenced 10 months in prison following his arrest during the disorder in East Leicester. Amos Noronha, of Illingworth Road, Leicester appeared at local Magistrate's Court and pleaded guilty to possession of an offensive weapon.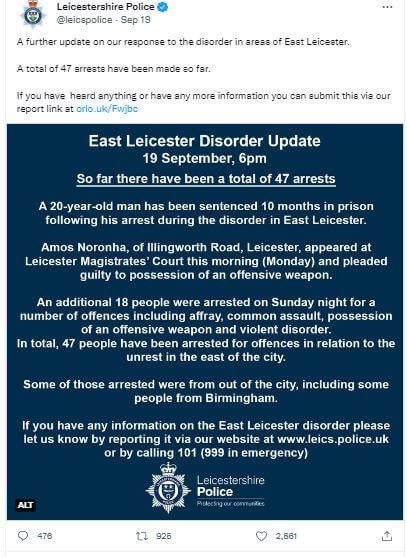 The Police are conducting proactive patrols in the sensitive region and have reported no further reports of disorder.
Local community leaders have appealed everyone to maintain peace and order.
At the time of writing, there were some reports of clashes coming from Birmigham.