Identity Theft Investigations Leads to Multiple Arrests in Brampton
28th June 2021 – Peel Regional Police has made multiple arrests in an identity theft investigation which was carried out for a period of six weeks. 16 people, mostly from Brampton, are now facing over 140 charges including mail theft, fraud over $5,000, possession of stolen property and forged documents.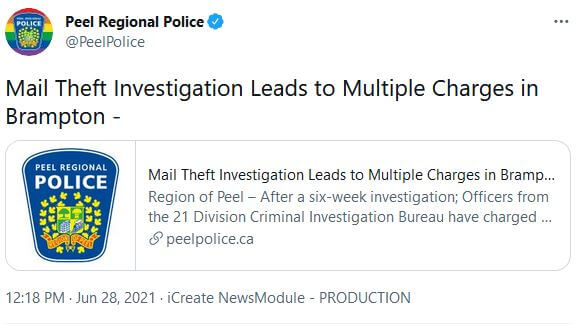 During the long investigation, Police has recovered hundreds of pieces of mail, stolen/altered cheques, printers, scanners, and other tools used to forge documents. Among other things, six stolen vehicles were also confiscated which were being used by the accused.
The investigation has revealed the modus operandi of the group that was running the racket. The accused would allegedly steal mail by breaking into Canada Post mailboxes or individual roadside residential mailboxes targeting cheques, credit cards, and identification documents. The accused would then allegedly alter and deposit the stolen cheques into various banks before withdrawing the funds fraudulently.
https://www.peelpolice.ca//modules/news/index.aspx?newsId=70965a35-4bd2-4b33-9b8b-099651ca59b1&lang=en#
Below is the complete list of arrested persons. More arrests in this case may be expected in the coming days.
Gurdeep Bains, a 46-year-old man, Brampton
Hartinder Randhawa, a 37-year-old man, Brampton
Taranjeet Virk, a 37-year-old man, Woodbridge
Harmeet Khakh, a 28-year-old man, Brampton
Gurdip Singh, a 28-year-old man, Brampton
Harjinder Singh, a 31-year-old man, Brampton
Gurkamal Mehmi, a 38-year-old man, Brampton
Gurvinder Kang, a 38-year-old man, Brampton
Gurpreet Singh, a 21-year-old man, Brampton
Suhail Kumar, a 21-year-old man, Brampton
Rattan Preetam, a 26-year-old man, Brampton
Rupinder Sharma, a 25-year-old, Brampton
Joga Singh, a 30-year-old, Toronto
Varinderpal Kooner, a 43-year-old man, Brampton
Harman Singh a 21-year-old man, Brampton
Kuldeep Sandhara, a 27-year-old, Brampton