Crop Fires primary contributor of pollution in North India, confirms NASA Earth Observatory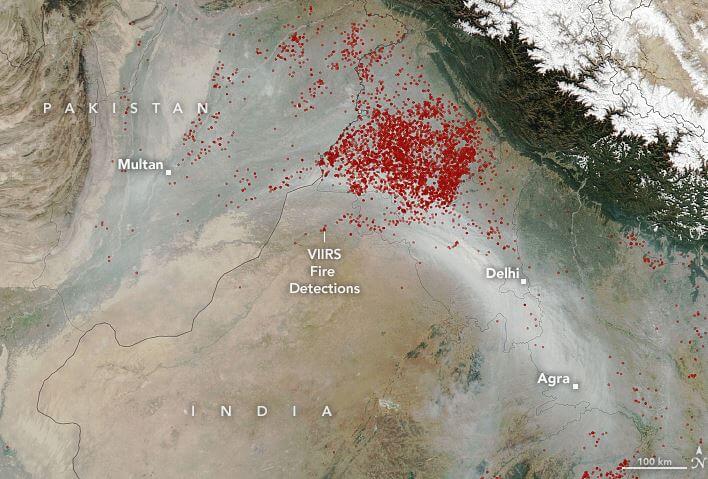 24th November 2021 – In a report published by NASA Earth Observatory last week, it confirmed that smoke from crop fires in northern India covered Delhi and contributed to high levels of air pollution.
As per NASA report, the satellites detected large plumes of smoke and heightened fire activity in northwestern India as farmers burn off excess paddy straw after the rice harvest. Many farmers, particularly in the states of Punjab and Haryana, use fire as a fast, cheap way to clean up and fertilize fields before planting winter wheat crops.
High levels of fine particulate matter, PM2.5 and coarse particulate matter, PM10 lead to wide variety of cardiovascular and respiratory diseases. The experts at NASA estimated that about 22M were impacted by smoke on 11th November alone.
Smoke from crop fires is, however, not the only contributor to the hazy skies. Influxes of dust sometimes arrive from the Thar Desert to the west. An array of other human-caused sources of air pollution in cities, including motor vehicle fumes, industrial and construction activity, fireworks, and fires for heating and cooking also produces particulate matter and other pollutants.
While total fire counts have remained consistently high in Punjab, satellite data indicate that campaigns to get farmers to clear fields without using fire have proven more successful in Haryana.