Credit Valley Conservation partnered with HSS for tree plantation drive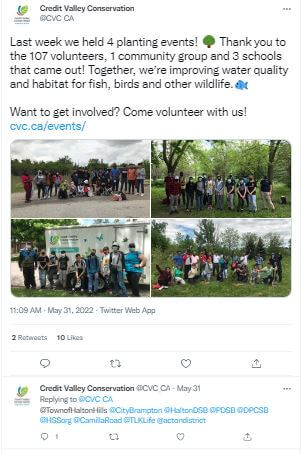 2nd June – Planting, conserving and even worshiping trees is an essential part of Hinduism. Hindus of Canada are proudly carrying that tradition which their ancestors taught them centuries ago.
Volunteers from Hindu Swayamsevak Sangh (HSS) participated in a tree plantation drive past Saturday, 28th May 2022, which was organized by Credit Valley Conservation (CVC) Authority. Over a dozen volunteers from all age groups helped the CVC in planting over 200 trees, plants and shrubs.
The event started with Prakruti Vandan which including chanting of the Ved mantras. Pandit Shri Surendra Shastri Ji from Hindu Heritage Centre Mississauga facilitated the religious ceremony. The event was also marked by Mississauga Ward 6 Councillor Mr. Ron Starr.
The event which lasted for almost 3 hours ended with a potluck lunch organized by the community members.
"It was day well spent. Charity, fun and meeting friends, all happened at the same time", said one of the volunteers.
Watch the Prarkurti Vandan with Ved Mantra ceremony here.