City of Burnaby is wrong in commemorating the 'Gauri Lankesh Day': Hindu Forum Canada
---
5th September 2021 – City of Burnaby has announced that 5th September this year would be commemorated as 'Gauri Lankesh Day'. Gauri Lankesh was an Indian journalist who was killed by un-identified assailants on 5th September 2017. Her murder proceedings are currently being investigated by the top cop in India, Central Bureau of Investigation (CBI).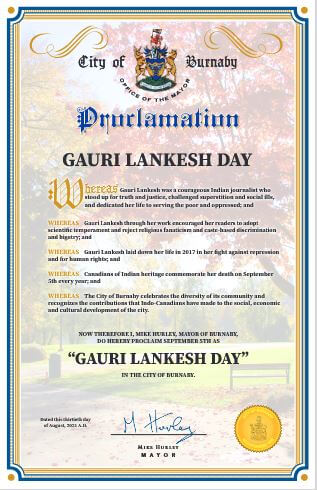 Some of the points which the City considered in this proclamation included that Gauri Lankesh challenged superstitions and social ills. It also claimed that the request for proclamation had support of Indo-Canadians.
Hindu Forum Canada (HFC) has, however, objected to this proclamation in a very strongly worded letter. In its letter, HFC has argued that celebrating the day over the deceased journalist would set a wrong precedent in Canada. They noted that the trial of Lankesh's murder is still under investigation and the local courts in India are yet to announce their decision. The letter also said that this seems a ploy to defame Hindus and Hinduism. Opposing the colonial mindset of the city authorities and the Mayor, the letter said that the premise that the journalist fought against superstitions is false and read "Please explain to over a million Canadian Hindus which religion carries no superstition? Is everyone's normal life not full of superstitious stories, from Halloween to Christmas Gospels?"
HFC has asked the city to withdraw its support to the controversial proclamation since it questions the impartiality of city's office. The city is yet to respond to this letter.