Calling "Swastika" a Nazi symbol is to deny Hindu-Canadians their religious right and freedom: Liberal MP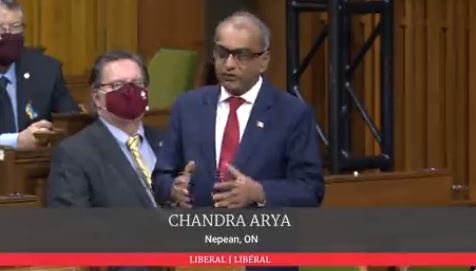 3rd March 2022 – In a passionate statement delivered in the Canadian Parliament on Monday, Chandra Arya, Liberal MP from Nepean, called upon the members of the Parliament and Canadian citizens to distinguish between the sacred symbol of Swastika and the Nazi symbol of hate, Hakenkreuz or the hooked cross.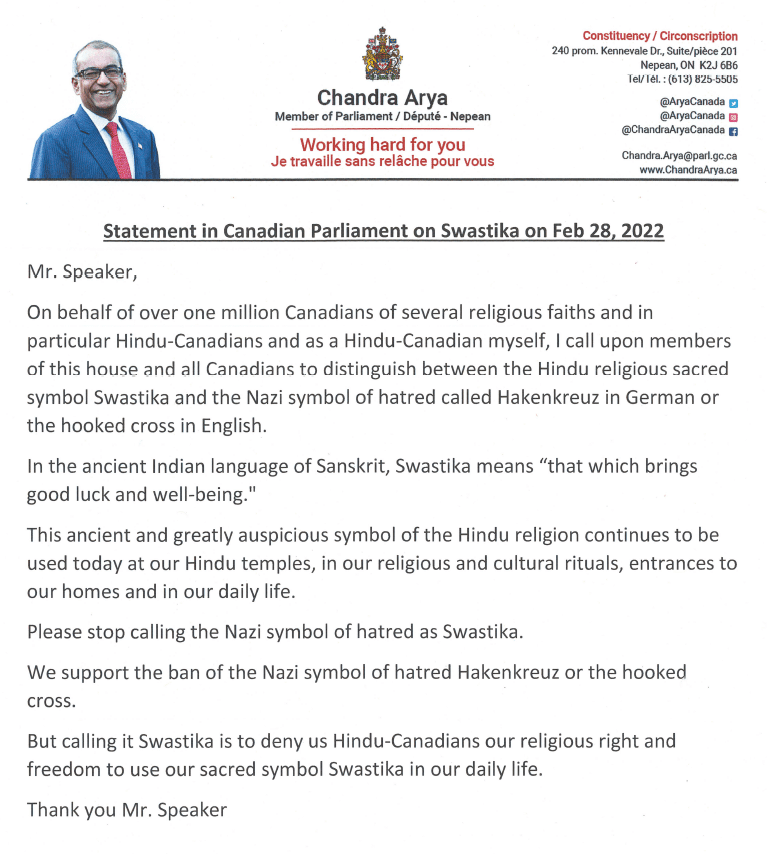 His speech was well received by the Hindu community as they face cultural appropriation on many subjects such as Swastika and Yoga in the western world including Canada. Swastika in Sanskrit means "that which brings good luck and well-being" and is considered a pious symbol by billions of Hindus, Buddhists and Jainis across the globe. Interestingly, research of the Nazi literature reveals that the word "Swastika" was not used during the Third Reich. The Nazi journals mentioned "Hakenkreuz", literally meaning "hooked cross". The usage of the word "Nazi Swastika" started becoming popular in the 1970s and has been part of the Western academia and media ever since.
Last month, during the #FreedomConvoy protests in Ottawa, NDP MP Peter Julian introduced a private member anti-hate bill in the parliament which aims to prohibit use, display and promotion of hate symbols including Swastika. (read the full story here)
The Hindu Federation of Canada, which is a consortium of different Hindu temples, held talks with the NDP MP and have tried to explain their concerns on adding and using the word Swastika. Mr. Julian, in his response, has assured to amend the bill when it comes for consideration in the House of Commons and replace Swastika with hooked cross after the word Nazi.