Brampton Temple writes letters to PM and others, seeks desperate help against anti-Hindu forces
15th July 2023 – The past few months have been very anxious for the Hindu Canadian community, particularly in Brampton.  Repeated attacks on different temples, showcase of posters and banners filled with threats to 'kill' something or someone, promo material calling for guns and violence followed by law enforcement agencies' inaction has kept the Hindu Canadian community on the edge.
Jeff Lall, President of Bharat Mata Mandir, has now written letters to Prime Minister Justin Trudeau, PC Party Leader Pierre Poilievre, Brampton Mayor Patrick Brown and NDP Leader Jagmeet Singh seeking their intervention after the temple premises were vandalized early last week. Without the permission of the temple, posters of 'war zone' were put outside temple's premises.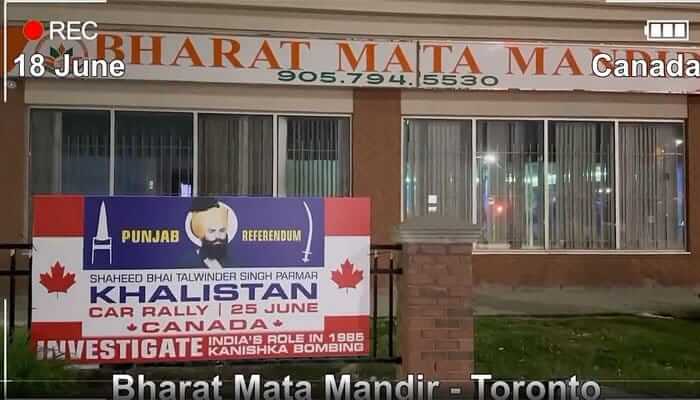 The letters seek intervention from national and local leadership against recurring hostilities towards Hindu Canadian community.
"Posters advocating for a referendum and the use of armed struggle in a civilized society have been extensively distributed throughout the Greater Toronto Area, emphasizing the urgency for the Canadian government to address this matter firmly", reads the letter.
Melanie Joly, in her recent meeting on 14th July 2023 with External Affairs Minister Dr. S. Jaishankar reassured that "Canada takes very seriously its obligation under the Vienna Convention on the safety of diplomats."
While most in the Hindu Canadian community have no doubt that Canada will uphold the guidelines of the Vienna Convention, some doubt Canada's will to counter growing Hindu and India hate in the Canadian society.