Bhagwan 'Sri Rama' is the theme for Hindu Heritage Month at TDSB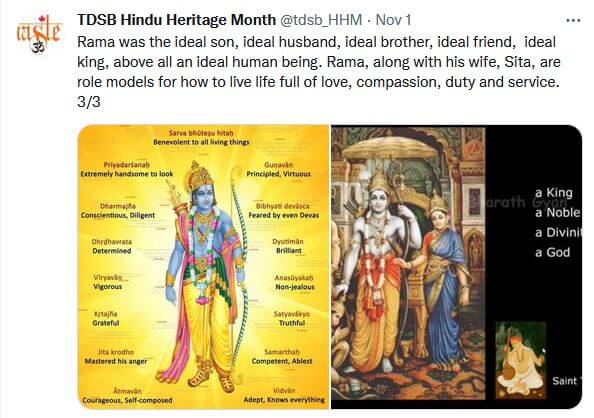 6th November 2021 – The motion to celebrate Hindu Heritage Month each November was passed at Toronto District School Board (TDSB) in 2018 and since then it has been commemorating the event each year with different themes. This year, the board has chosen Bhagwan 'Sri Rama: Epitome of Love, compassion, duty and service' as its theme.
Sri Rama, who lived thousands of years ago, was the 7th avatar or reincarnation of Vishnu. Rama is known as Maryada Purushottam, or a man of perfection who took birth as a human to rid the world of some evil forces who were disturbing the peace. Rama was the ideal son, ideal husband, ideal brother, ideal friend and above all the ideal king. Rama, along with his wife, Sita, are role models for how to live life full of love, compassion, duty and service. The Ramayana, the story of Rama's life, is a great Hindu epic representing the rich cultural heritage of India. The Ramayana is also celebrated across Asia – in Indonesia, Thailand, Malaysia, Laos, Myanmar, Philippines, Japan and China as a social and cultural icon. For Hindus the word 'Rama' is a mantra (a sacred chant) and 'Rama Rama' is a common greeting, instead of 'Hello!'.
Last month, the students across TDSB were invited to participate in a contest for the Hindu Heritage Month and below images have selected as the winners.