November to be celebrated as Hindu Heritage Month across Canada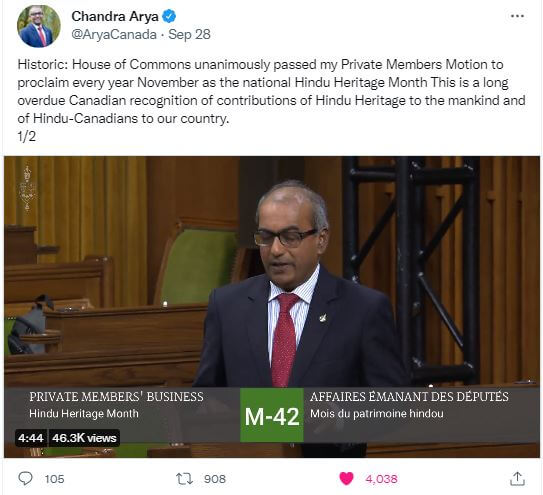 29th September 2022 – House of Commons has unanimously passed a motion to recognize November as the Hindu Heritage Month (HHM) across Canada.
Technically known as Private Member's Business Motion M-42 (Hindu Heritage Month) was tabled by Canadian MP, Chandra Arya. The motion was supported by all MPs and received 324 'Yeas' and 0 'Nays'.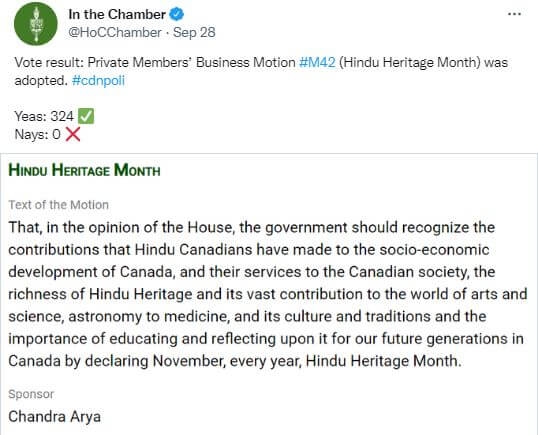 For Canadian Hindus, this has come as special gift before Diwali which is just a few weeks from now.
In his statement in the Parliament, Arya said that Hindu civilization has a recorded history of 5000 years and an invisible thread binds us together even in the absence of a monolithic religious dispensation.
"Proclaiming Hindu Heritage Month provides an opportunity to remember, celebrate and educate both current and future generations about Hindu Heritage and contributions of Hindu-Canadians to our great nation", he added.
The motion now will have to be passed by Senate and requires a Royal Assent to come in force.
Here is complete statement of Chandra Arya.