This Indian singer was the most listened to artist on YouTube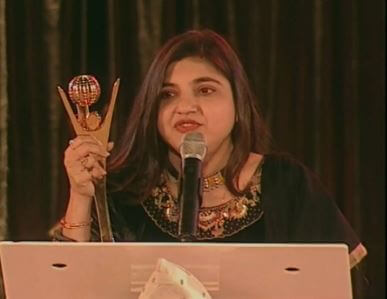 2nd February 2023 – It is not Rihaana or Beyonce or Justin Bieber who were the most listened to artist on YouTube for the year 2022.
Guinness World Records noted that the popular Indian female singer Alka Yagnik was the most streamed act on YouTube this past year. She got a whopping 15.3 billion streams on the social media platform with an average of 42 million views each day.
The 56-year-old icon is the most popular artist streamed on the platform for the past 3 years.
Interestingly, of the Top 5 artists, four are from India; Udit Narayan (10.8 billion), Arijit Singh (10.7 billion) and Kumar Sanu (9.09 billion).
Yagnik held the number one ranking on YouTube's weekly music chart since October 2022 and ended the final week of the year strongly with 366 million streams.
As reported by ChartMasters, 25% of the YouTube users are from India.
Yagnik who was born on 20th March 1966 has an active singing career beginning 1970s. She is a classically trained singer and began singing bhajans on All India Radio at a very young age of 6 years. She has been awarded Filmfare awards seven times for Best Playback Female Singer, equaling the tally with Asha Bhonsle, a titan figure in the Indian film industry.
Over a career spanning 4 decades, it is reported that she has sung over 20,000 songs for films and private albums.