Surrey man arrested in sexual assault investigation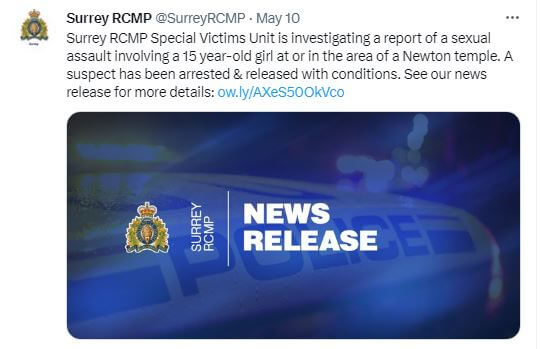 11th May 2023 – The Surrey division of Royal Canadian Mounted Police (RCMP) has arrested one 58-year-old man in connection with a sexual assault investigation of 15-year-old girl at local Gurudwara.
On 4th May 2023, the police authorities received a report that a 15-year-old teenage youth had been sexually assaulted at or in the area of the Gurudwara Dukh Nivaran located in the 15200-block of 68 Avenue.
Police arrested the suspect on 5th May 2023 and maintains that the suspect is an employee at the Sikh temple.
"Our Special Victims Unit are leading this investigation, with support for the youth victim from Surrey Women's Centre, says Cpl. Sarbjit K. Sangha Media Relation Officer of Surrey RCMP. We urge anyone with information to come forward, as investigators continue to work to gather evidence and advance the investigation."
Police are asking for anyone with additional information, including those who may have been at the Gurudwara Dukh Nivaran on May 4, 2023 between 6:30 a.m. and 8:00 a.m. to contact police and quote file number 2023-69537.
The 58-year-old male suspect has been released on conditions, including no contact with the victim and not to be in the presence of anyone under the age of 16-year-old without another adult present.