'Om' Flag raised in Brampton City Hall for Hindu Heritage Month Celebrations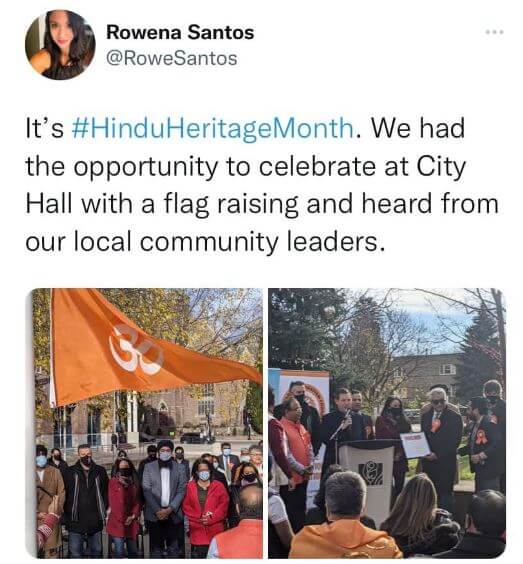 15th November 2021 – In yet another fascinating event which celebrated the Hindu Heritage Month festivities in Greater Toronto Area in Ontario, a flag bearing the pious symbol of 'OM' was raised in Brampton City Hall on last Friday.
The event which was organized by a non-profit organization named 'Hindu Heritage Celebration Foundation' was graced by many political and social leaders including the Brampton Mayor Patrick Brown, Brampton City Councillors Jeff Bowman, Mike Palleschi, Charmaine Williams, Rowena Santos, Harkirat Singh, Gurpreet Dhillon, Ruby Sahota MP Brampton North, Sonia Sidhu MP Brampton South, Rechie Valdez MP Mississauga Streetsville, Ontario Minister Prabmeet Sarkaria, Amarjot Sandhu MPP Brampton West, Kevin Yarde MPP Brampton North, Deepak Anand MPP Mississauga-Malton, School Board Trustees Kathy McDonald and Will Davies. MPP Gurratan SIngh from Brampton East was represented by his constituency staff.
Ontario is home to a large and vibrant Hindu community, and since the first Hindu immigrants arrived in Canada in early 1900s, Hindu Canadians have made significant contributions across all fields such as science, education, medicine, law, politics, media, judiciary, business, culture and sports amongst others. The Province of Ontario, City of Brampton, City of Ottawa and many other municipalities across the province have proclaimed the month of November as Hindu Heritage Month recognizing the important contributions that Hindu Canadians have made to Ontario society.