Live Exclusive: Salman Rushdie on the Languages of Truth; Upcoming Book Launch Event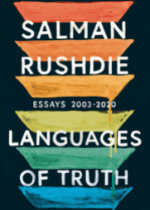 13th August 2021 – It is an exciting moment for the fans of Salman Rushdie in Canada, who is set to launch his latest non-fiction book titled 'Languages of Truth' in Toronto next week. The event would be streamed across Canada on Hot Docs at Home on Tuesday, 17th August at 7:30 PM (EST).
The event can be accessed at https://bit.ly/3xmbiSM The event is free for the Hot Docs members and $6.99 for non-members.
Salman Rushdie is celebrated as a storyteller of the highest order, illuminating truths about our society and culture through his gorgeous, often searing prose. Now, in his latest collection of nonfiction, the Booker Prize-winning, internationally bestselling author brings together insightful and inspiring essays, criticism, and speeches that focus on his relationship with the written word and solidify his place as one of the most original thinkers of our time. Presenting the book to Canadian audiences for the first time, Rushdie joins Nahlah Ayed, host of CBC's Ideas, for a night of mind-expanding stories and conversation.
The India born author has penned 14 novels including Grimus, Satanic Verses (for which he won the Booker Prize in 1981), Midnight's Children and Quichotte. His novel Midnight's Children was adapted for the stage and was performed in London and New York by the Royal Shakespeare Company. A film on the same was released by Deepa Mehta in 2012.
Salman Rushdie's new book is available to purchase online via Ben McNally Books in Toronto.