Edmonton Mosque Vandalized with Nazi's hate symbol Hakenkreuz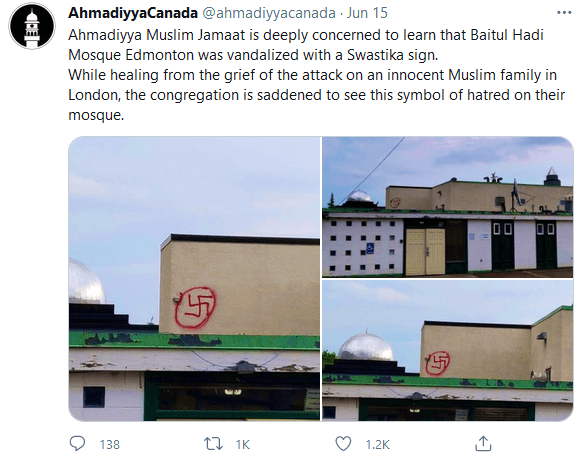 17th June 2021 – Ahmadiyya Muslim community has been left in shock after Baitul Hadi Mosque in Edmonton was vandalized with Nazi's hate symbol Hakenkreuz. They expressed their grief and concern and tweeted against the growing racial attacks in Canada.
The Ahmadiyya community is getting support from all sections of the society and people from all religions are pouring their messages against this action of hate. Messages such as "Love for all, hatred for none" filled the community's twitter account. 
After the recent London attack, in which four members of a Muslim family were killed in a hate crime, the safety concerns in the Muslim community have grown a lot. In the recent past, Canada has seen a rise in hate crimes. As a multi-cultural and diverse nation, hatred on any count including sex, race, ethnicity, religion is not acceptable. 
Please tweet this story with:
#SayNoToIslamophobia
#SayNoToAntiSemitism
#SayNoToHinduphobia
#SayNoToRacism