30th August 2023 – Two-day long Canadian South Asian Literary Festival 2023 that took place in Brampton last weekend has awarded authors, poets and creative writers from South Asian heritage who have contributed to the Canadian Literature.
The festival was first-of-its-kind and has launched the Nalanda Awards that aims to honor literary contributors in poetry, fiction and non-fiction. A cash reward of $10,000 to $20,000 was given to the awardees.
The festival and the Nalanda Awards are the brainchild of Tahir Aslam Gora and his wife, Haleema Sadia. Gora, who himself is a renowned TV personality, author and poet feels that "there is a need to recognize the contributions of South Asian authors and poets in Canada. Any literature produced in Canada is after-all Canadian Literature."
He also hopes that this festival will turn out to be an inspiration for other budding authors and poets from the South Asian heritage in Canada. "Though we may come from different countries in South Asia, a lot of our struggles and experiences are strikingly similar in Canada. We share a common heritage back home and our challenges in Canada are at times very similar", says Gora.
Among the awardees was Aruna Papp, who is an internationally recognized educator and advocate of human rights. She is well-known for her work in the area of domestic violence against women. A survivor of 18 years of domestic violence herself, she has written extensively on issues faced by immigrant women in Canada and culturally rooted gender-based violence.
Her book "Unworthy Creature: A Punjabi Daughter's Memoir of Honour, Shame and Love" turned out to one of the favorites among book lovers during the festival.
"Through platforms such as these, more and more people will get to know the stories of the women whose voices were kept silent for long", say Aruna while she struggled to stop crying narrating the stories of the victims she had worked with.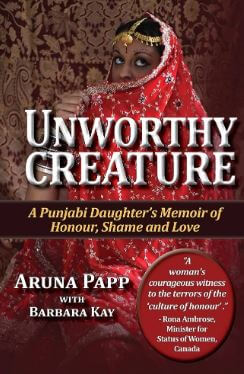 The festival hosted different conclaves including Bengali, Kashmiri, Sindhi and Punjabi languages which focused on respective literary discussions and writing.
On Saturday evening, the festival did a four-hour long Mushaira and Kavi Sammelan where the audience got to enjoy the Hindi poetry, Urdu nazms and ghazals from award winning poets. Delhi-based poet Amit Bajaj mesmerized the audience with his special andaaz (style) of poetry.
Among awardees was former British Columbia Premier Ujjal Dosanjh, political scientist Ishtiaq Ahmed, poets Ashfaq Hussain, Irfan Sattar, Subrata Kumar Das, Hasan Mujtaba, artist Meena Chopra, fiction writer Anubha Mehta, Kashmiri Canadian poet Vidya Bhushan Dhar and Punjabi writer Surjit Kaur.
Videos of the festival will soon be released on the YouTube channel of TAGTV. Stay Tuned.