Canada India signs new travel agreement; unlimited flights agreed between the two nations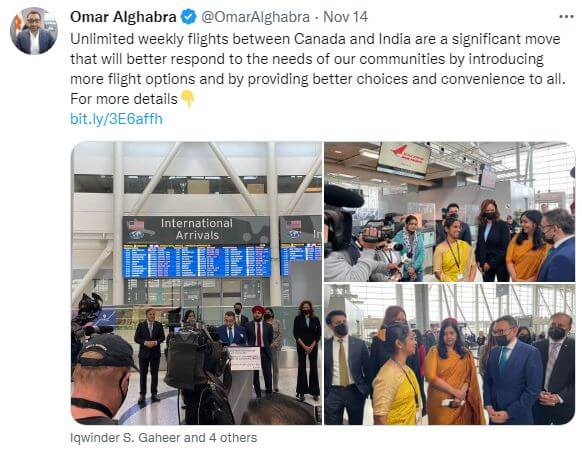 15th November 2022 – Canada and India has reached a new milestone in trade negotiations and it came yesterday with the achievement of expansion of Canada-India Air Transport Agreement.
In a press release done at the Toronto's Pearson Airport, Canadian Minister of Transport, Omar Alghabra, announced the conclusion of an expanded air transport agreement between the two democratic countries. As against the previous limit of 35 flights a week to each of the trade partner, the amended agreement allows unlimited passenger flights between the two countries for designated airlines.
Minister Alghabra said, "Our government's goal has always been to make the lives of Canadians easier and this is exactly this new agreement will do. Hopefully this will allow Indians and Canadians to spend more time with their loved ones. It will also help businesses and tourism in both countries grow and succeed."
As per the current census, people of Indian origin living in Canada has gone over 1 million. Indian students make the largest pie of the international students studying in Canada. There are 230,000 Indian students in Canada.
India's Consul General, Apoorva Srivastava who also joined Minister Alghabra at the event, added, "This is a really important development in our bilateral relations and testament of our growing partnership. Renewal of this agreement is timely which greatly benefits both the countries. This agreement will also facilitate sharing of knowledge and best practices."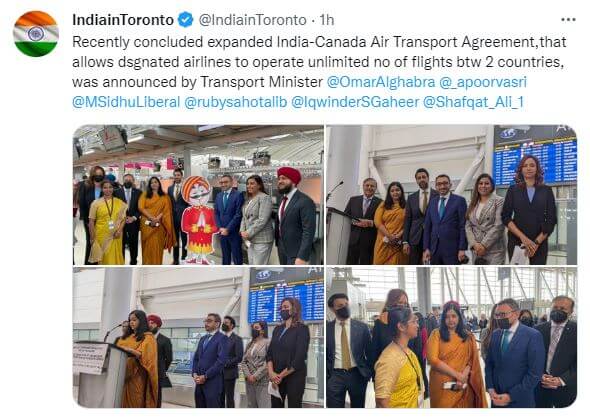 To see the full press conference, click here.
Keeping in mind Ottawa's recent immigration goal announcement which aims to welcome 1.5 million new immigrants by 2027, it is quite likely that Indians will make a big portion of this.
Some political pundits are viewing this agreement with significant geo-political results. With Canada-China relations at loggerheads, this could be seen as a noteworthy step from Ottawa towards improving its Indo-Pacific policy. Canada has been accused of being lethargic and not being active in its Indo-Pacific relations. At the same time, the matter of growing anti-India and separatist forces in Canada has kept India-Canada relationship jarred (see here).
Below are some of the key facts about the recent agreement.
India is Canada's 4th largest international air transport market.
Canada's first air transport agreement with India was concluded in 1982, and was last expanded in 2011. This new agreement was reached under Canada's Blue Sky policy, which encourages long-term, sustainable competition and the development of international air services.
The agreement gives Canadian air carriers access to Bangalore, Chennai, Delhi, Hyderabad, Kolkata, and Mumbai, and Indian air carriers access to Toronto, Montreal, Edmonton, Vancouver, and two additional points to be selected by India.
Other cities in both countries can be served indirectly through code-share services.
Rights for all-cargo services are already unrestricted.