Brampton man arrested for first degree homicide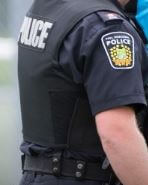 20th May 2023 – Peel Regional Police has arrested a 44-year-old Brampton man, Nishan Singh in a first-degree murder investigation.
Last evening at 6 PM, the police received an emergency call seeking medical assistance at Sparrow Park located near Cherrytree Drive and Sparrow Court in Brampton. When the paramedics along with police reached the crime scene, they found an adult female with signs of trauma. Although life-saving efforts were attempted yet the victim succumbed to the injuries at the scene of the incident.
The victim was later identified as a 43-year-old woman, Davinder Kaur.
Nishan Singh was later arrested by Peel Police and has been charged with first-degree homicide and appeared before the Ontario Court of Justice in Brampton this morning.
Police confirms that the investigation is still going on.