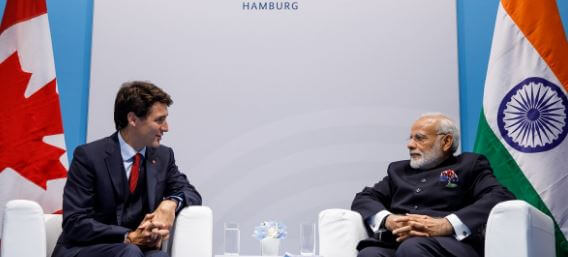 13th July 2023 – Canada and India have had a relationship which has seen much turbulence in the past few months. On one hand, the trade, business and commerce seems to be going on business-as-usual basis. In fact, off and on, there are spurts of optimism to improve the existing trade deals.
When the Indian Commerce and Industry Minister, Piyush Goyal, visited Canada in May early this year, the buzz was (still is) that both democratic nations may seal a trade pact by end of this year. This trade deal is expected to cover high-level commitment by both nations in goods, services, investment, rules of origin, sanitary and phytosanitary measures, technical barriers to trade and dispute settlement.  His Canadian counterpart, Mary Ng, is expected to travel to India in the subsequent months.
On the other hand, the relationship falls on face and sees much dirt and muck as soon both nations start talking about the movement that is running in full fanfare within Canadian borders for a separate state called 'Khalistan' from India. It is not very difficult to estimate the influence of such an overseas movement vis-à-vis its on-ground traction or support. Politically, the state of Punjab has chosen governments from all major political parties in India including Indian National Congress, Shiromani Akali Dal (once part of National Democratic Alliance led by BJP) and now Aam Aadmi Party. A casual glimpse of the local Punjab politics will portray that the sentiment of creation of 'Khalistan' has not gained momentum among common voters.
The separatists, however, in Canada have been able to derail the Canada India relationship many a times. In numbers, the separatists may be low but have significant influence over the Canadian politics. They are vocal and they know how to get their politicians to hear their voices.
Last year, several Hindu temples within Canada were attacked and desecrated. For reasons unknown or best known to the policing authorities, most of those cases remain un-resolved and perpetrators of the crime are still at-large. Early last month, a float in Brampton was displayed depicting the assassination of former Indian Prime Minister, Indira Gandhi. Though the act was condemned by prominent politicians locally in Canada, no follow-through action was taken.
After a local Sikh temple leader, Hardeep Singh Nijjar, was killed in British Columbia on 18th June 2023, a group of separatists have been claiming that this was in fact a deed done by the Indian agencies based out of Canada, thus pushing the foreign interference narrative. Of course, this claim is not backed by evidence or data given by the local police authorities. The murder investigation is yet ongoing.
In order to build further narrative around the matter, last Saturday a car rally was organized from Malton to the Consulate General of India Office in Toronto. The posters and banners which were used to promote the rally specified two major points – "Kill India" and "Killers in Toronto" over the photos of the Indian diplomats in Canada. This has of course not gone down well with the Indian authorities. Even the Indian diaspora stood in solidarity with the diplomats and did a solidarity march in front of the CGI office in Toronto.
Adding fuel to the fire
Canadian Prime Minister Justin Trudeau's recent comments in an interview have added pointed rocks to an already rocky pathway for Canada India relations. The reporter asked "the Indian government says that you are being soft on Sikh extremism because you rely on votes from that community. How can you demonstrate that they are wrong?" To this, he replied that "they are wrong. Canada has always taken extremely seriously violence and threats of violence. We have always taken serious action against terrorism and we always will."
To begin with, the reporter's question needs a small correction here. No official dé·marche or condemnation from the Indian authorities has ever included the words "Sikh Extremism".  In fact it was Public Safety Canada that included the words "Sikh Extremism" in its annual report in 2018. Now to PM Trudeau's response, it seems he was either not briefed well about the ongoing situation or he genuinely fell for the question. As a reminder, Canadians have been the victim of one of the worst air terror strike when an Air India flight 182 was bombed mid-air on 23rd June 1985 by BC-based extremists.
What lies ahead?
Gone are those days when Indian authorities sought a lip-service from their Canadian counterparts. It is certain that India is not seeking approval stamp from any Canadian that Punjab is an integral part of India and Canada respects its sovereignty. Given the rise of India as an economic and military power and changes to the geo-political situation, India does not much reassurance from outside about its territorial rights.
Both Canadians and Indians are looking for some action on the ground; some action against the ones who openly exhibit guns, bombs and violence. It will be naïve to ignore such warnings. Are we ready to see another extremist act on Canadian soil? No, we are not.
An important aspect of this situation is how the Indo-Canadian community responds to these risks. Are they willing to reach out to their political leaders? Are they willing to stand-up against this lunacy? If they are indeed willing, the Canadians will be ready to walk the talk with them, for sure.
So, is there light at the end of the tunnel? There always is. But the question remains, how far is the end of the tunnel? How fast can one reach the end of the tunnel? Most importantly, what efforts will it take to walk together to reach the end of the tunnel?