Shivaji sculpture goes missing from San Jose Park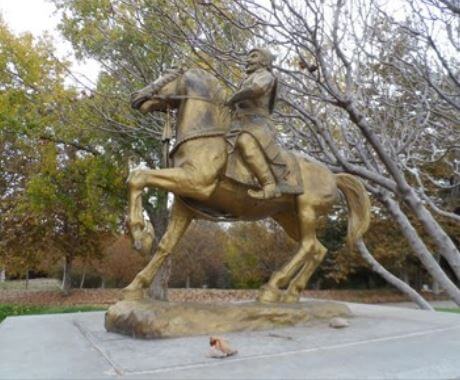 8th February 2023 – A local report by KTVU confirmed that a sculpture of Chattrapati Shivaji Maharaj has gone missing from a local park in San Jose, California.
According to San Jose Parks and Recreation, the sculpture was missing from the Guadalupe River Park as of Friday, 3rd February. It could not be confirmed since when was it missing.
The sculpture was gifted by the City of Pune, India to San Jose as a 'sister city program' in 1999. Created by a renowned Indian sculptor, B.R. Khedkar, it was a copy of the statue in Kolhapur, Maharashtra, India.
Shivaji Maharaj, a warrior king, established an independent Hindu Maratha kingdom with Raigad as its capital in the 17th century. Under his command, the small contingent of 2,000 soldiers whom he had inherited from his father grew to over 100,000. His army is well-known for being disciplined with well-organized structure. His military tactics are considered par excellence for the times and the soldiers were well-trained for guerilla warfare with the ability to deliver pointed attacks even on a larger and powerful army.
He is also known as the founder of the Indian Navy. He built a strong naval presence across the coast of Konkan and Goa and his fleet is reported to have 700 merchant, support and fighting vessels. Last year in September, the Modi government unveiled the Indian Navy's New Ensign with a seal of Chattrapati Shivaji Maharaj.