Peel Police arrests one and issued warrant in Brampton 'sword fight' investigation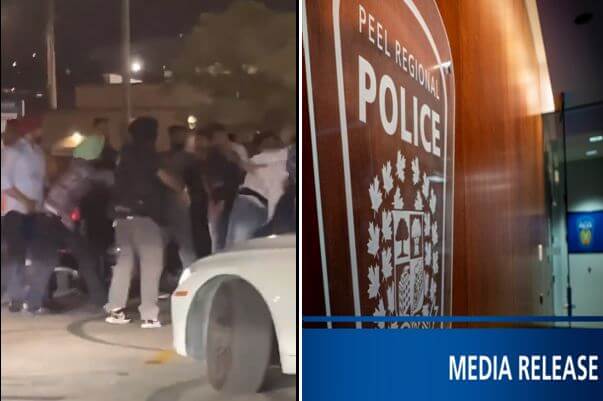 15th September 2022 – Peel Regional Police has arrested and charged one 25-year-old man from Woodstock with two counts of assault with a weapon in Brampton's 'sword fight' investigation.
The incident which took place on 28th August 2022 at about 1:30 A.M. in a plaza near McLaughlin Road and Steeles Avenue (popularly known as College Plaza) was caught on camera by a local. The video went viral across Brampton and Canada. (Click here to see the video. Video has foul language, user discretion is advised).
On 12th September 2022, Harjot Singh, a 25-year-old from Woodstock has been charged with the below offence:
Harjot Singh is set to appear at the Ontario Court of Justice in Brampton on 2nd November 2022.
Under the same investigation, Police has issued an arrest warrant for 24-year-old man from Niagara Falls.
On 14th September 2022 a warrant has been issued for the arrest of Mansharan Malhi for the below offence:
"Violence in our community will not be tolerated. Member of the Peel Regional Police continue to work tirelessly to bring those responsible before the courts", said Deputy Chief Marc Andrews.