Dozens arrested and drugs worth millions seized during Project Econoline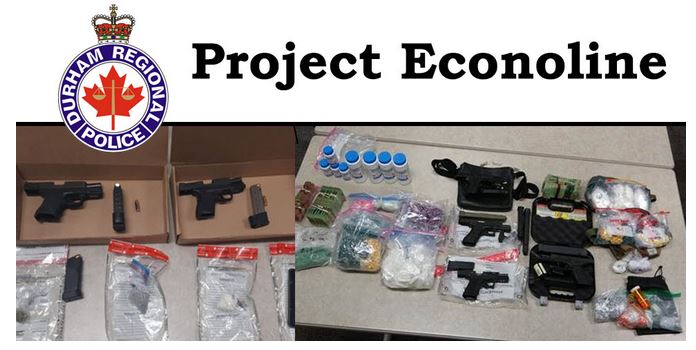 21st September 2021 – After months long drug investigation, various teams of Durham Regional Police Services have disrupted fentanyl trafficking in the Durham region.
The investigation was led by Drug Enforcement Unit with the assistance of the Gun and Gang Enforcement Unit, Tactical Support Unit and the East Division Community Response team. The team executed 28 search warrants within the GTA, arrested 44 individuals and laid a total of 295 Criminal Code and Controlled Drug and Substance Act charges. During the duration of the investigation, investigators seized 5.8 kilograms of fentanyl, 4.2 kilograms of cocaine, 205 grams methamphetamine, 3,000 oxycodone pills, 30 kilograms of illicit cannabis and a quantity of hydromorphone, GHB, MDMA with an approximate street value of $2.5 million. Police also seized eight handguns and over $300,000 in cash.
The opioid crisis in Canada has worsened during the COVID-19 pandemic and has impacted many communities in the country. There has been a substantial increase in the number of deaths caused by opioid overdose. Opioids are drugs that affect your mind, mood, and mental processes and can also cause euphoria, or the feeling of being "high." This creates the potential for them to be used improperly.